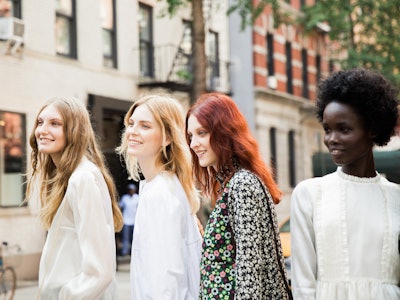 Adorned in delicately embroidered smock dresses and pieces splashed in refreshingly colorful graphic prints, a bevy of willowy models weaved through Greenwich Village in clogs during the second day of New York Fashion Week to reach their final destination: the new, soon-to-open Orla Kiely store on Bleecker Street. The occasion? The presentation of the Orla Kiely Spring Summer 17 collection.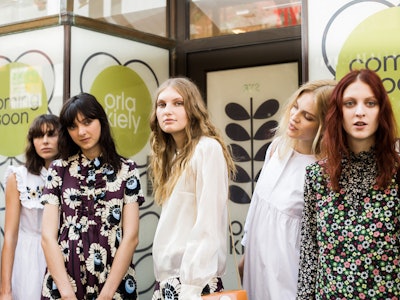 "We were looking at the folk scene in LA, Big Sur in the seventies," designer Orla Kiely stated of her inspiration for her collection. "And the person who came up in our research was Mimi Fariña." The younger sister of singer Joan Baez, Mimi was a notable figure of the era known for her folk music and activism. "There were all these amazing styles back then and we looked at the kind of free spirit of the time. We also were looking at Scandinavian folk art for some of the graphics."
To completely embody the Mimi Fariña free spiritedness, Orla partnered with visionary hairstylist Diego Da Silva of Tim Howard Management to craft a long, parted hair look with a slight wave. "The direction for the Orla show was to keep the girl very natural because the collection was inspired by the seventies," said Diego. "So the hair is very simple, natural, very healthy looking."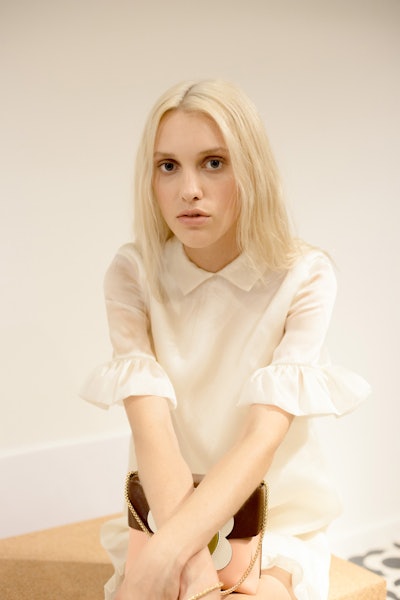 "[The hair is] kind of just very free, loose and kind of effortless in the sense that it is just so natural, with a few little braids on some models," added Orla.
 
Get the Look:
"To begin, we first had to assess each model," said Diego. "We wanted the girls to have a center part but mostly leave them looking as they were to really achieve a natural look. For girls with thin hair, we used VOLUMEA volumizing conditioning spray - no rinse on the roots just to give the hair a little body and thickness. I used the NATURIA dry shampoo when the hair was too clean or too shiny to help mattify.
"We then applied CARTHAME no-rinse day time moisturizing conditioner on the lengths of hair with our hands to get more of that beachy hair with a healthy texture, and to also add a little more body. If there were any tangles we gently combed them out, making sure not to disturb the texture of hair.
"Next, we used a blow dryer on a low setting with a diffuser to get a little wave in the hair and to attain the texture we wanted.
"Finally, after blow-drying and gently framing hair around the face, we clipped it back with tissues on either side of the center part to maintain shape. The clips were held in place until the models were dressed for the presentation. For a few of the girls we created two small braids on either side of the part between the forehead and the crown as a nod to the 70's folk inspiration."