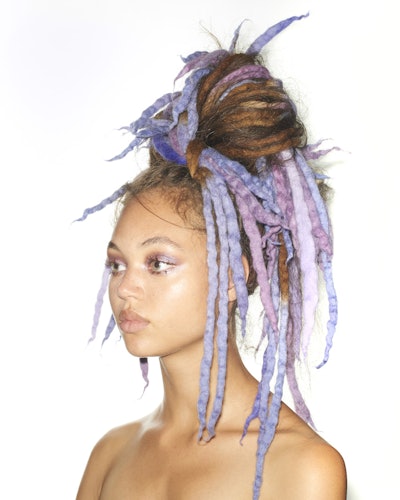 This season, designer Marc Jacob's sent models down the runway in bright, colorful, over-the-top clothing and faux dreadlocks piled high to match. The dreads, which were made from wool hair extensions and dyed in an array of pastel hues, caused a stir as some took to social media to cry cultural appropriation, citing the white models who sported the style during the Spring/Summer 2017 show.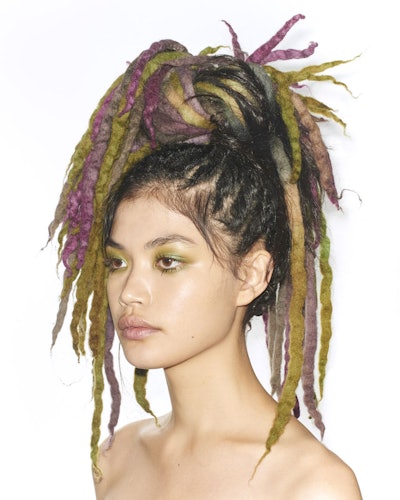 Jacobs quickly took to Instagram to defend the controversial hair choice, stating, "…all who cry 'cultural appropriation' or whatever nonsense about any race or skin color wearing their hair in any particular style or manner - funny how you don't criticize women of color for straightening their hair. I respect and am inspired by people and how they look. I don't see color or race - I see people. I'm sorry to read that so many people are so narrow minded… Love is the answer. Appreciation of all and inspiration from anywhere is a beautiful thing. Think about it."
The designer later issued a more formal apology on his personal Instagram page, stating, "I have read your comments… and I thank you for expressing your feelings. I apologize for the lack of sensitivity unintentionally expressed by my brevity. I wholeheartedly believe in freedom of speech and freedom to express oneself though art, clothes, words, hair, music… EVERYTHING. Of course I do 'see' color but I DO NOT discriminate. THAT IS A FACT! Please continue to express your feelings freely but do it kindly. Nothing is gained from spreading hate by name calling and bullying."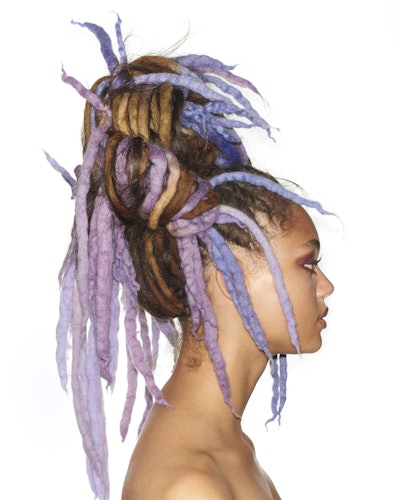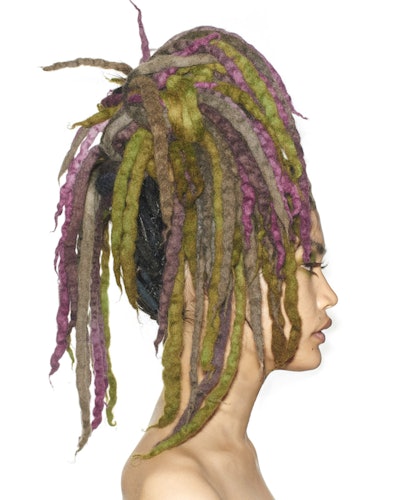 Redken Global Creative Director, Guido, who created the runway hairstyle, cited an array of inspirations for the look. "Marc first started talking to me about this look at the end of July. He was really inspired by Lana Wachowski's hair. She's got these beautiful colored, wool hair extensions. So that's really where the major inspiration came from, as well as club and rave culture, Boy George, and anime," he said. "We knew we wanted to find wool hair. So we literally looked on Google and found Jena Counts' Etsy shop and reached out to her. She's been making all the wool extensions by hand in custom colors and lengths. For this show, she utilized 12,500 yards of fabric, which was dyed in more than 200 different shades."
To create the look, Guidio first blow-dried the hairline with a boar bristle brush before spraying a good amount of Redken  Wind Blown 05 all over hairline and lengths to ensure a good texture for maximum grip. He then sectioned back the hair from ear to ear, clipping up to get the hair out of the way. Taking sections of about 1-inch thick hair, Guido twisted around the base of each dreadlock, then twisted together. He took the twisted section and pulled it up to the top of the head to create a clean line along the profile (chin to top of head). Next, he took sections of the twisted hair/dreadlocks and braided them around each other, securing with a small elastic. Once this was completed, he took a few sections at a time and tied them up at the top to form a huge ponytail, securing with a large elastic. Finally, he took small sections of hair and knotted at the top (3-4 different knots in total) to create a large bun at the top which he secured with hair pins.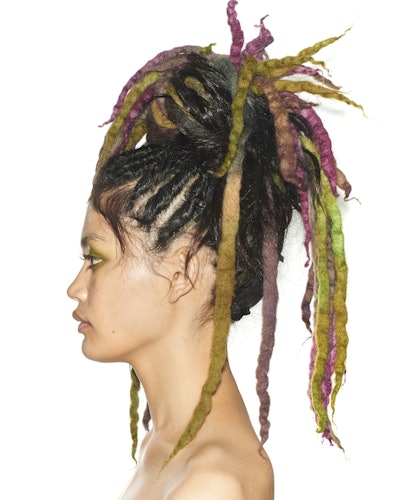 No matter how you slice it, the look was certainly one of the most talked-about and statement-making styles of this year's Fashion Week.