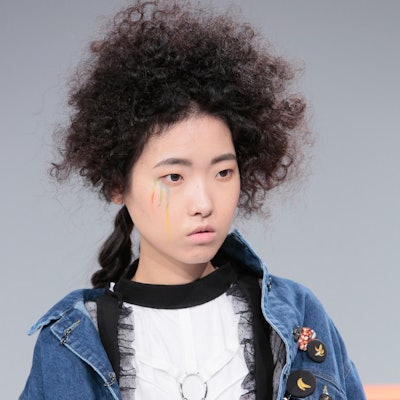 Michelle Helene is known for the union of self expression and sophistication crafted with rare and time-forgotten techniques, materials and bespoke construction. For the Spring/Summer 2017 Michelle Helene collection, runway stylist Jorge Luis for L'ANZA Healing Haircare created brilliant hair looks with eye-catching blends of contrasting global textures, forms and lines. "The vibe was organic and absolutely 70's music, inspired by a modern twist," said Jorge Luis.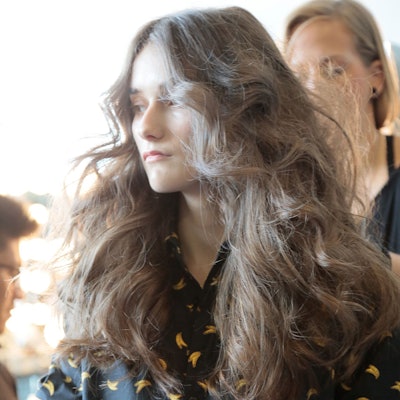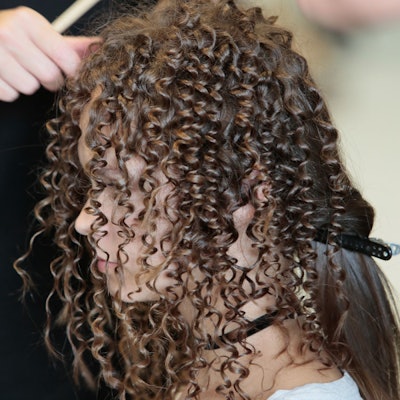 To make fine-curled Afro texture in front, Luis created his own technique using a surprising combo of chopsticks and a flat iron. In back, hair was smoothed, criss-crossed to hide any parts, then taken to the side and braided. Braids were then deconstructed for a flowing, organic look.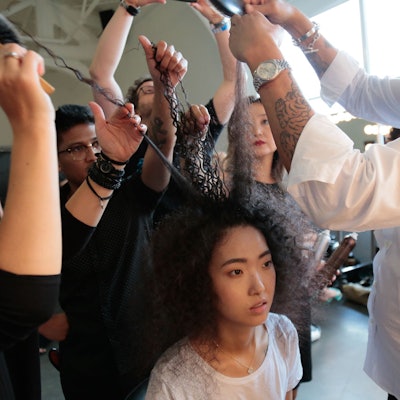 Get the Look:
Brush top hair forward and front with a Mason Pearson brush to smooth, then spray with L'ANZA Healing Style Dry Texture Spray.
Working with small sections, wrap hair tightly around a chopstick, place in between flat iron plates for a minute. Shift iron position as needed to apply heat to all wrapped hair. Release, then spray curls with L'ANZA Keratin Healing Oil Lustrous Finishing Spray.
Sleek back hair and apply L'ANZA Keratin Healing Oil Hair Treatment for smoothness and shine.
Criss-cross hair to opposite sides, then create braids (one smaller, the other larger).
Spray braids with L'ANZA Healing Style Dry Texture Spray and gently pull apart to deconstruct for an undulating, hand-crafted look.