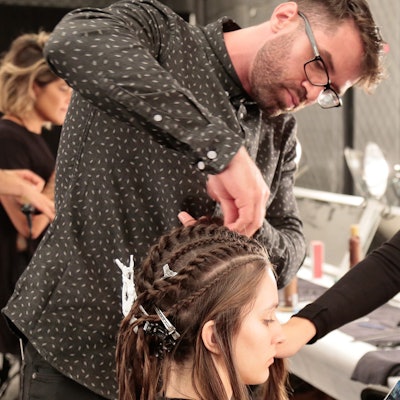 The dynamic Jeans for Refugees collection from artist Johny Dar was all about the idea of wearable art in movement. Models took the runway wearing versions of the classic wardrobe staple, jeans, that had been painted by Dar and donated by an array of celebrities including, Alicia Vikander, Anna Wintour, Candice Swanepoel, Chanel Iman, Claudia Schiffer, Elle MacPherson, Emma Watson, Eva Longoria, Florence Welch, Karlie Kloss, Karolina Kurkova, Kate Moss, Rachel McAdams, Shannon Elizabeth, Sharon Stone, Sofia Coppola, Tuppence Middleton, Twiggy and Victoria Beckham. Bare-chested male models sported jeans donated by Benicio del Toro, Daniel Radcliffe, Harry Styles, Jamie Theakston, Joaquin Phoenix, Nicholas Hoult, Ozzy Osbourne, Tom Waits, Guillaume Néry and Usher.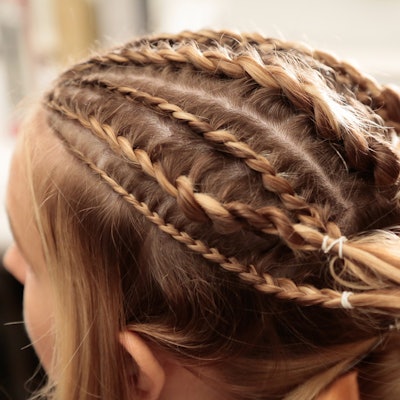 Just after the show, the exquisite, one-of-a-kind pieces went live for bidding online (as of September 9th), with proceeds going toward the International Rescue Committee. Johny Dar couture pieces were also integrated with his painted celebrity-donated jeans. These included flowing full-length gowns of pomegranate red and rose gold, snakeskin, combinations of black mesh, fat black zippers, leather and silk fusions and innovative cuts to redefine the body. Proceeds from this avant-garde collection will be donated to the Big Heart Foundation.
To pair with the stunning Jeans for Refugees SS17 collection, Global Creative Director for L'ANZA Healing Haircare and NAHA Master Stylist of the Year Award-winner, Ammon Carver, created intricate braided looks with strong textural definition.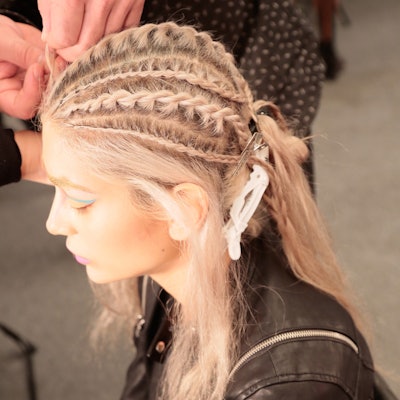 "I was inspired by the rich colors and beautifully intricate textures of Johny's amazing painted jeans and dresses," said Carver. "I knew as soon as I looked at the clothes that it had to be a braided look. I also wanted the hair to combine his inspiration from diverse cultures and nature since the scope of his artistry and his work is so expansive."
Carver created sophisticated, detailed looks with French rope braids of diverse sizes that graduated in width from top to ends. Micro "spacer" braids were placed between each rope braid to give the illusion of added space and amplify dimension. The braids were joined at the nape of the neck, and tied together to flow down over loose, deconstructed lengths of hair beneath.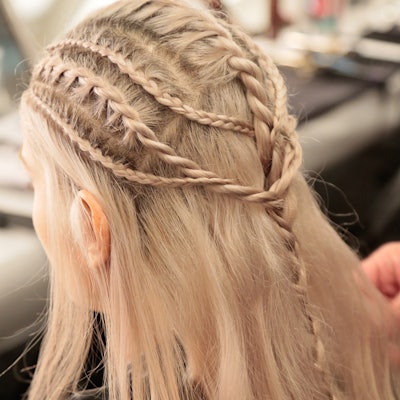 Get the Look:
Prep hair with L'ANZA Keratin Healing Oil Hair Treatment to nourish and condition the hair.
Before braiding, apply L'ANZA Healing Style Molding Paste for control, hold and definition. It also thickens hair density without flaking or cracking for more dramatic-looking braids.
Create French roll braids (taking a small section, separate it into 3 parts, twist then roll the first 2 parts of the section counterclockwise before integrating the bottom third into the braid in the same direction). Start at the top, then down the sides while following the curve of the head, widening the braids as they reach the nape.
To create more space between the braids as well as definition, make small, one-sided micro braids alongside each larger braid before moving to the next.
Repeat until 6-8 braids with micro-braided spacers are completed.
Bring all braids to the center of the nape of the neck and secure.
Loosely curl remaining braid-free hair underneath with a 1½-inch curling iron, brush through, then separate strands for smooth, loose, deconstructed texture to contrast braids. Apply L'ANZA Keratin Healing Oil Treatment as needed for extra, weightless shine.
Finish with a light spray of firm-hold L'ANZA Keratin Healing Oil Lustrous Finishing Spray to hold the look in place and fight against frizz-causing humidity.