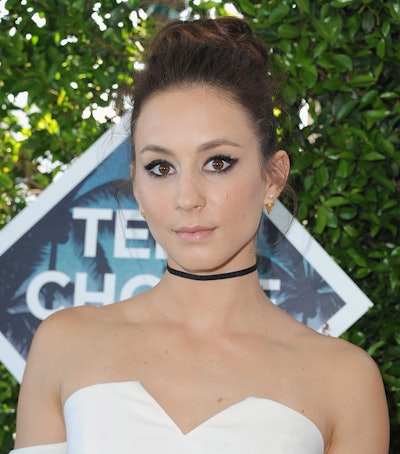 At the recent Teen Choice Awards on Sunday night, celebrity hairstylist David Stanwell worked with actress Troian Bellisario, of Pretty Little Liars, to create her look for the evening. "Troian was wanting some kind of a knot that would work with the dress, but wanted to still keep it textured, so we decided on an updo," said Stanwell. The resulting look: a casual-meets-chic, perfectly imperfect topknot.
Recreate this look that's both elegant and cool with Stanwell's how-to, below!
Get the Look:
"Troian has a natural wave in her hair so I left natural to create a relaxed look," said Stanwell. "Her hair was already air-dried by the time I arrived, so I worked with her natural texture, blew-out the edges, and snatched the back hair into a high pony.
"Using Oribe Dry Texturizing Spray for added texture, I split the pony into two sections and wrapped around in different directions for a messy bun.
"To finish, I pulled out random hairs around the edges of her face for a more organic look than anything too structured."