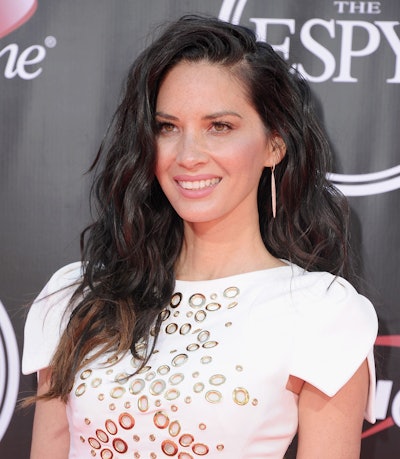 Olivia Munn attended last night's ESPYS with boyfriend and Green Bay Packers Quarterback, Aaron Rodgers, looking stunning in an embellished Antonio Berardi gown. To complement her form-fitting look, celebrity stylist Chris Appleton opted for a hairstyle that was all about gritty, effortless texture. The end result? Gorgeous, cascading waves that offered just the right amount of carefree edge.
"Olivia's hair is very soft, so we needed to make sure that we added a lot of the right products to make her hair look as textured as possible," said Appleton, who used products from the new Matrix StyleLink Mineral line in order to achieve Olivia's style. Recreate this summer-ready look with Appleton's how-to below!
Get the Look:
"First, we started with wet hair and applied the Matrix StyleLink Mineral Rough Me Up Salt Infused Spray throughout her hair and through the roots," said Appleton. "I love this product because it keeps the hair in place, but leaves the hair looking perfectly undone, which is just the look we were aiming for.
"Next, we blow-dried her hair upside down all the way through the root until completely dry. There was a lot of focus on the roots of her hair to ensure that we were getting volume throughout the look.
"When the hair was completely dry, I applied Matrix StyleLink Mineral Airy Builder Mousse throughout her hair to prep it for curling.
"Then, I back-combed her hair at the roots for more texture.
"Section by section, I began curling the hair. I sprayed each section with Matrix StyleLink Mineral Playback Dry Shampoo to use it as a texturizer.
"I wanted the look to have a variation of different sized waves, so I used a 2" Curling Iron at the root of her hair, but then switched to a 3" Curling Iron at the end of her hair in order to create a more natural, effortless look until all pieces were curled.
"To finish off the look, I [created a cocktail with] the Matrix StyleLink Mineral Playback Dry Shampoo with Matrix StyleLink Mineral Booster, mixing the two together in the palms of my hands. Then, I ran my hands through Olivia's hair to put the final texture touches on the look!"