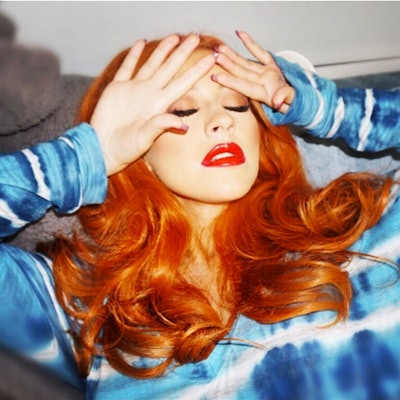 Hairstylists typically see a rise in clients desiring blonder strands for summer, but this year, it's all about the radiant reds. Celebrities like Sarah Hyland, Emma Stone, Lily Collins, Ariel Winter, and Christina Aguilera are leading the charge with sultry coppers and rich raspberry hues, inspired by everything from The Little Mermaid's Ariel, to the va-va-voom vixen, Jessica Rabbit.
Want to help your client get the look? PRAVANA Artistic Color Director Vadre Grigsby put together the below formulas and technique using ChromaSilk Hair Color to recreate a Christina Aguilera-inspired shade. This gorgeous, fiery red shade will help your clients embrace this stunning trend all summer long!
Get the Look
FORMULA 1: 3 oz. ChromaSilk 6.66 + 1 oz. ChromaSilk 6.34 with 10 volume developer
FORMULA 2: Equal parts ChromaSilk 6.64 and ChromaSilk 6.34 with 10 volume developer
*This color is formulated for a tint-back on very light blonde, level 10 hair.
 
HOW-TO:
Place panels of back-to-back slices throughout, applying FORMULA 1 to create pops of vibrant color.
Apply FORMULA 2 to the remaining hair.
Process for 30 minutes at room temperature.  
Shampoo, condition and protect with PRAVANA Moisture Rich Shampoo and Conditioner.
Style as desired.