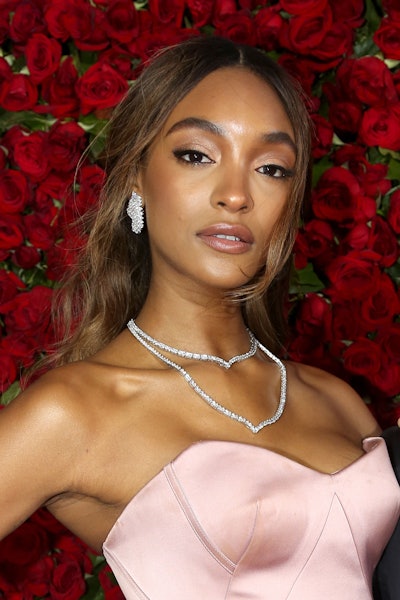 Maybelline New York spokesmodel, Jourdan Dunn, looked beautiful on last night's 2016 Tony Awards red carpet. The model paired her blush-pink gown with shimmering, minimal makeup by celebrity makeup artist Renee Garnes. "To keep her look soft and fresh, we went with a minimal makeup look with a twist," said Garnes.
A gorgeous look for brides, or simply for those clients wishing to go glam, this look is easy to recreate with Garnes step-by-step tutorial, below!
Get the Look:
Face, Contour, and Cheeks: Garnes applied Maybelline New York Dream Velvet Foundation on the face for a demi-matte, soft and velvety finish. Because the dress was a soft champagne-pink, Garnes wanted the face not to look too structured or strobed, so she lightly swept the contouring shade of Maybelline New York FaceStudio Master Contour just below the cheekbones and the highlighting powder of FaceStudio Master Contour onto the highplanes of the face. For a slightly flushed look, Garnes used the blush shade of FaceStudio Master Contour no.2.
Eyes: Keeping to the "blushed" theme of Jourdan's Zac Posen dress, Garnes used Maybelline New York The Blushed Nudes Palette. She gave the eyelids a wash of the light shimmery, pink shadow. Using a deep nude shadow, she gave the eyes a little contour just above the crease of the lid. She then tight-lined the eyes with black liner. Maybelline New York Lash Sensational Luscious Luscious mascara made the lashes look full on top and bottom, with a few extensions for added drama.
Brows: Garnes filled in Jourdan's brows with the powder from the Maybelline New York Brow Drama Pro Palette, and defined them with the wax applied by the accompanied angled brush. To finish, she swept the highlighter shade from the palette onto Jourdan's brow bone with her finger.
Lips: To pair nicely with the color of the dress, Garnes kept Jourdan's lips soft. She first lined them with Maybelline New York Color Sensational Lip Liner in Rose, and then topped them with Maybelline New York Baby Lips Lip Gloss in Pink-a-Boo and Taupe with Me.