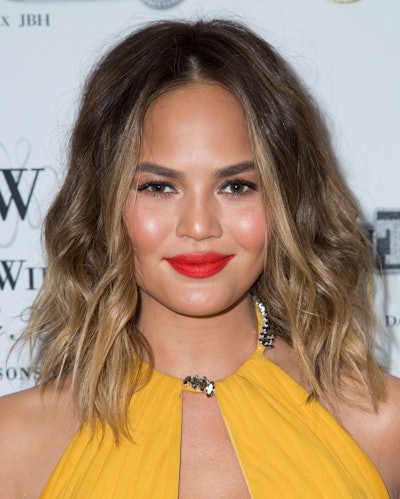 Summer is right around the corner, meaning your clients are looking for fresh, easy-to-create styles that are both on-trend and beautiful. According to Heritage Hair NYC owner and stylist Melinda Bouldin, there's no better summer style than relaxed, sexy beach waves like Chrissy Teigen's. Below, Bouldin shares her tips on recreating the look in the salon!
Get the Look:
Prep the hair by blow-drying the hair straight, using a blow dry cream protectant or mousse.
Once the hair is 100% dry, section hair into five sections: back, front, and two separate sides - keeping the top and crown area sectioned off for last.
Using a 1-inch flat iron (like the Amika Titanium Flat Iron) along with a 1 1/2-inch barrel iron - start by taking vertical sections on the side with the flat iron, straightening from root to end.
Curl hair by twisting it back away from the face. Keep twisting the iron while moving it down diagonally and away from the face, leaving an inch straight at the end. Leave the tips of the hair uncurled. Continue this throughout the head. TIP: To make the curls more subtle and less defined, take the flat iron and gently clamp parts of the wave in steady, soft "taps and releases" downward.
Once you have finished curling the entire head, have your client flip her head upside down and spray Shu Uemura's Texture Wave throughout the hair for ultimate volume. Flip hair up and continue to spray. Then, sprinkle Shu Uemura's Art of Hair Volume Maker onto the roots for added volume.
For more on the hottest looks and styles this season, follow Heritage Hair NYC on Instagram.