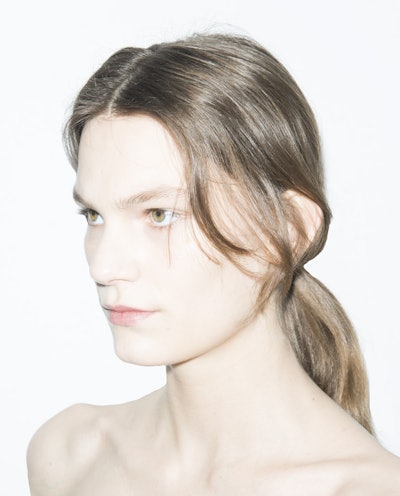 Redken Global Creative Director Guido embraced the power of individuality by showcasing each girls' unique natural hair texture and personality at the Celine Fall/Winter 2016 show during Paris Fashion Week. "The Celine hair this season embodies the overall idea of ease and personality, appearing natural and effortless. We've seen this trend of easy hair and we wanted to incorporate this while also staying true to each girls' personality. The hair was meant to reinforce the individuality of each girl, so each was styled differently based on her hair's natural texture and movement with some girls in a low ponytail, some with their hair down and a side part, others with a middle part, and several low knots," says Guido.
Show: Celine F/W 2016
The Look: The Power of Individuality
Stylist: Guido
How-To:
Start with clean hair by washing with Redken's new Beach Envy Volume Shampoo and Conditioner.
Lightly spray Redken's new Beach Envy wave aid onto damp hair and comb through.
Using fingers, rough-dry hair. As you dry, gently push hair into the head in an "S" movement to create a wave effect.
Twist hair into loose knot and pin in place for 30 minutes to allow hair to set.
After 30 minutes, release pin to create loose waves. Run fingers through hair to help separate and create "S"-shaped waves.
Apply Redken glow dry style enhancing blow-dry oil to tame fly-aways and add shine.