Redken Global Creative Director Guido recently created three unique looks with a 50's twist at the Isabel Marant Fall/Winter 2016 show at Paris Fashion Week. "We decided to give the models at the Isabel Marant show three different hairstyles to better showcase their personalities," says Guido. "There's a boyishness to Isabel's clothes that is always apparent and the hair exemplifies this essence with a 50's twist. Using Redken guts 10 to help create these three unique looks, I interpreted a specific style from a different era and made it innocent, yet edgy and cool at the same time. This style is rich and doesn't require a lot of hairspray."
Show: Isabel Marant F/W 2016
The Look: Three Unique Looks with a 50's Twist
Stylist: Gudio
How-To: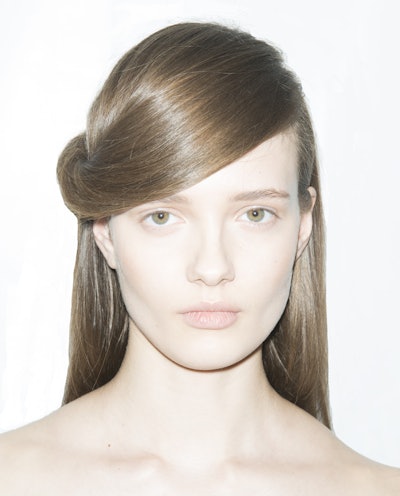 LOOK 1
Starting with clean damp hair, apply Redken satinwear 02 prepping blow-dry lotion to protect from heat and add shine. Blow-dry hair straight until dry.
Create a section of hair on the left side of head.
Take half of the section and drape it up above eyes, twisting the hair as you pull it to create a loose circular shape. Secure with a pin placed just over the ear.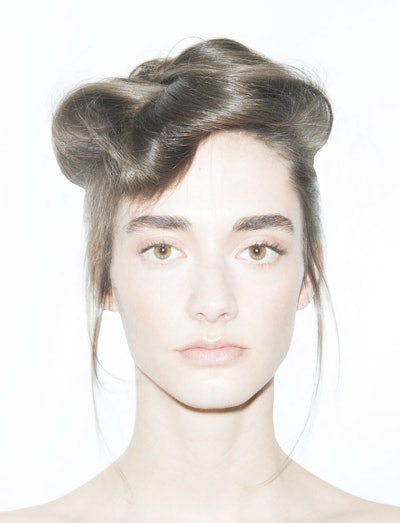 LOOK 2
Starting with damp hair, apply Redken guts 10 volume spray foam. Using a round brush, begin to blow-dry hair in sections.
Create one triangular section at the top of the head and blow-dry in the opposite direction. Then pin section in a loose loop on top of head to set.
With the remaining hair, pin in small loops throughout head. Depending on thickness of hair, create approximately three small loops at the front of the head and three in the back.
Let each set for 10 to 15 minutes, then remove pins.
Using fingers, take the front triangle section only and push toward back of head. Secure with several bobby pins for an asymmetrical look, keeping it slightly loose.
In the back, create a messy French twist. Secure with pins, leaving the back a little baggy and soft.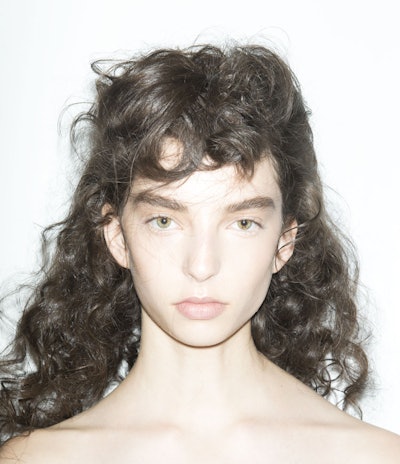 LOOK 3
Apply Redken guts 10 volume spray foam to damp hair and blow-dry.
Using a curling iron, curl one large section at the front of the head. Once set, create a dramatic sweep over, forming an "S" shape. Pin section in place.
With remaining hair, curl small sections of hair all over. Pin each curl in place and let set. Release pins after approximately 5-10 minutes.
Gather one curled section on either side of the face and allow hair to follow jawline. Secure with pins in the back to create slight lift.
Spray Redken wind blown 05 dry finishing spray all-over to create texture and hold, using fingers to separate curls as you spray.