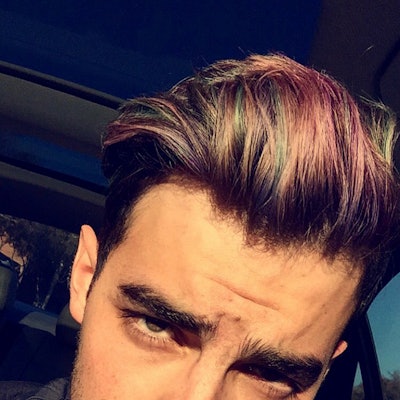 Jumping on the men-with-rainbow-hair bandwagon, singer and musician Joe Jonas recently debuted a new, multi-colored 'do on Instagram. Jonas took a less-is-more approach to the trend, adding subtle streaks of lavender and teal to his pompadour hairstyle. The look, which comes on the heels of the Grease: Live! performer's bright blue look back in late 2015, is a fun, simple way that clients can add some color.
To help you recreate the look in the salon, PRAVANA stylist Jamie Muniz put together the following formula and technique using PRAVANA VIVIDS for long-lasting, vibrant creative color.
Get the Look:
FORMULA ONE: 2 parts PASTEL Blissful Blue + 1 part NEON Blue
FORMULA TWO: 4 parts VIVIDS Pink + 1 part VIVIDS Magenta + 1 drop VIVIDS Wild Orchid
TECHNIQUE:
Pre-lighten hair to a level 9 using Pure Light Power Lightener and preferred choice of PRAVANA Creme Developer. This will provide a warm base for the pink and create a more greenish-blue with FORMULA 2.
Rinse, shampoo and dry the hair completely.
Stitch out selected pieces of hair and in-foil apply FORMULA 1.
Apply FORMULA 2 throughout the remaining pre-lightened strands.
Process 20 to 30 minutes at room temperature.
Shampoo with PRAVANA VIVIDS Color Protect Shampoo with cold water and condition with VIVIDS Color Protect Conditioner. Lock in the color with VIVIDS Color Protect Sealing Spray.
Rinse then dry hair completely. Style as desired.
To get Joe's lifted look, sprinkle NEVO Lived-In Powder Potion through the top strands for texture and volume then secure with the NEW NEVO Super Shape EXTREME Hair Spray for a fierce, long-lasting hold.