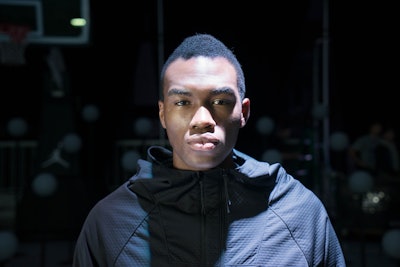 For the much-anticipated Public School x Air Jordan collaboration at the Terminal 23 event space in Manhattan, Aveda's Global Artistic Director for Hair Styling, Allen Ruiz, styled a mini, matte faux hawk for the model-athletes and performance artists.
"Our all-star product for this event was Aveda's Men Pure-Formance Grooming Clay, which let us mold and add shape to the athlete's hair without adding a lot of shine," said Ruiz. "The monochrome gray and black palette of colors that designers Dao-Yi Chow and Maxwell Osborne used in this special capsule collection had to be complemented by a matte, high performance hair style."
Get the Look:
Using a water bottle, spray down entire head and work water into the hair with hands to ensure all coils are damp.
Using the top of your fingernail, scoop out a small amount of Aveda Men Pure-Formance Grooming Clay and emulsify in hands.
Work clay between the palms of the hand and gently massage in the hair to loosen the coil and to add lightweight, pliable hold and thickness without adding shine.
To finish, shape the hair upwards into desired faux hawk style in the center of the head using hands and the pointed end of a fine-tooth comb.