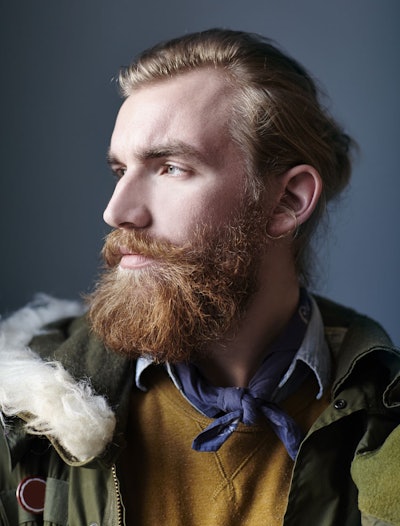 From man buns to big beards, men's grooming is becoming an increasingly popular category in the pro beauty world. Now, on the heels of Movember, KEVIN.MURPHY Director of Training, Tim Abney shares his top tips for keeping even the biggest, bushiest beards clean and stylish. Pass these on to your bearded clients!
Beard hair, which is considerably coarser than hair on the head, requires special treatment. Abney recommends applying a product that will add strength and smoothness, such as KEVIN.MURPHY BORN.AGAIN.
"BORN.AGAIN features olive leaf extract and shea butter, which are ideal for moisturizing hair," says Abney. "Just apply to your beard while showering and let sit for a minute or two. By the time you're done soaping up, the product will be ready to be rinsed out."
Afterward, Abney recommends adding a treatment product to the beard to make it softer and healthier. YOUNG.AGAIN features apple and sugarcane extracts to exfoliate and gently buff hair, while safflower seed oil acts as a lubricant to soften hair. Another product Abney recommends is SMOOTH.AGAIN, which contains lotus flower to leave hair super soft. Kutuacu seed butter in the product boosts hydration and replenishes moisture on the surface.