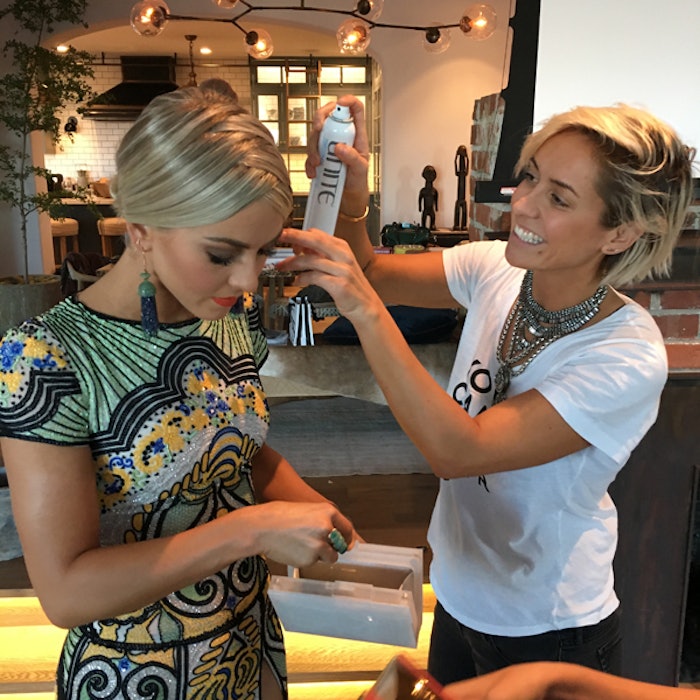 Riawna Capri of Nine Zero One Salon created Julianne Hough's American Music Awards look with UNITE hair products. Here's how to get the look: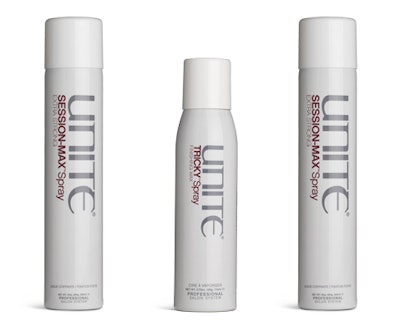 Start with dry straight hair. Create a deep angled part, in the shape of a V. The key is to brush that piece forward and smooth it down with UNITE TRICKY Spray Wax to keep the part clean of fly aways.
Next, do the same thing by creating another deep V. Brush that piece forward, and smooth down with UNITE TRICKY Spray wax. Continue to do the same until you have created the size you want.
Tie all the hair from behind your ear into a ponytail -that way you don't mess up the parting. Then take each side and add it by rubber-banding it to the pony very carefully. The trick is  to make sure to have all the hair brushed forward to disguise any scalp lines. This is the key to NOT having it look like the 90s zig zag part.
For the mini bun, we just looped her short hair once, allowing the ends of the hair to come off to the right side in an upward 45 degree angle.
Once every thing is in place lock it in with strength and shine! First, spray with UNITE SESSION-Max to make sure everything stays in place. Then follow with UNITE GLOSSING Spray to create a radiant shine!
[Images courtesy of UNITE]