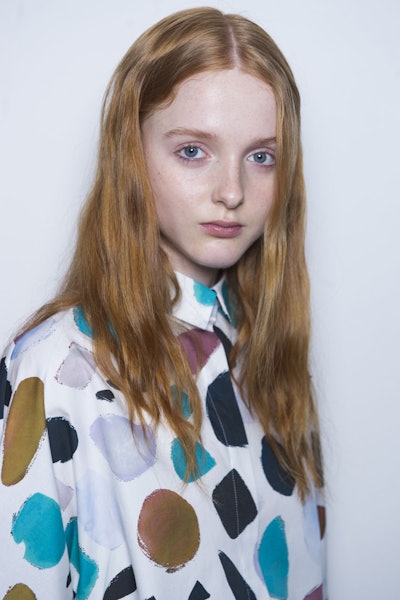 For the MSGM Spring/Summer 2016 show at Milan Fashion Week, lead stylist and Wella Professionals Global Creative Director, Eugene Souleiman, was inspired by the effortlessly cool locks and laid-back attitudes of skater girls. "The key to this look is not to try too hard. We wanted each girl to look like she's done her hair but she's done it on the beach, and she hasn't been looking in a mirror – she was outside and the wind's blown it about so it's disheveled and imperfect but in a really beautiful way," said Souleiman. "We wanted the models' hair to look quite thin and wispy, so to reduce the bulk of the hair we came up with the idea of creating this hidden cornrow inside the hairstyle, which then becomes a braid so we're adding a little detail at the same time."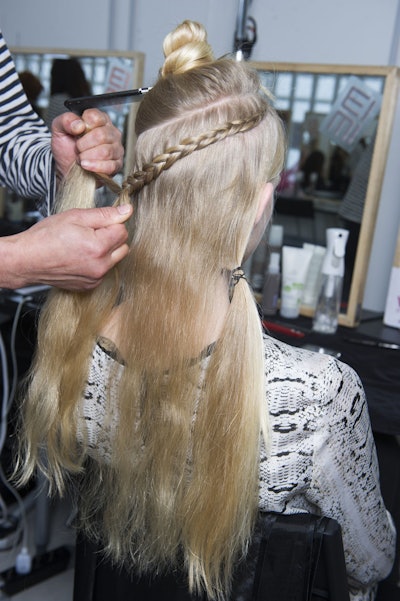 Get the Look:
Start by washing hair with Wella Professionals Elements Renewing Shampoo and blow-dry to give it a light, freshly-washed feel.
Grab top half of hair above the ears and tie into a loose top knot.
Next, take a small section of hair above one ear (approximately 1 ½ inches wide) and braid it tightly across and down the back of the head.
Continue to braid hair down and under the opposite ear until you finish the braid.
Let down the top knot and spray the lengths of the hair with Wella Professionals Elements Leave In Conditioning Spray to create texture and separation.
Finish the look by spraying Wella Professionals EIMI Dry Me into the bottom layers of hair for a slightly weathered feel.