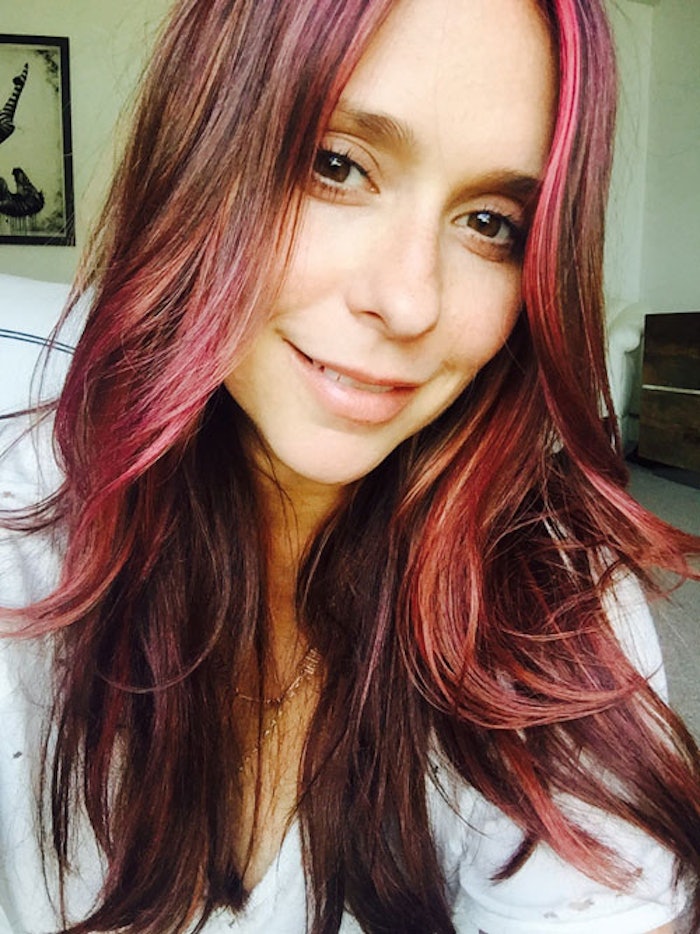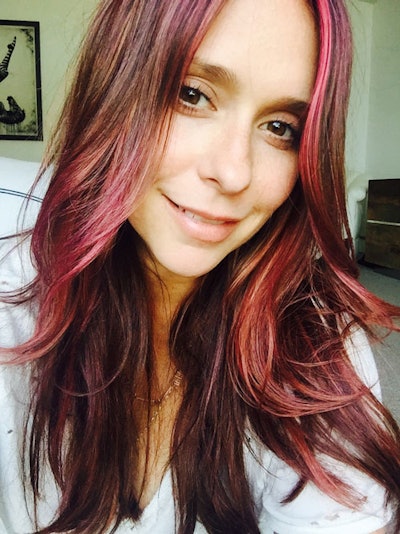 Celebrity hairstylist Sean James recently helped actress Jennifer Love Hewitt embrace the rainbow trend with a new, strawberry pink haircolor. Says Sean, "I was so excited when Jennifer called me herself at Fred Segal Salon and I asked me if it was possible to do [a] fresh, summer color without damaging her hair. My response was, 'most definitely!' Jennifer just wanted to experience the trend of colored hair but also has a career where she needs to have her regular haircolor." Below, Sean shares his formula so you can recreate this fun look!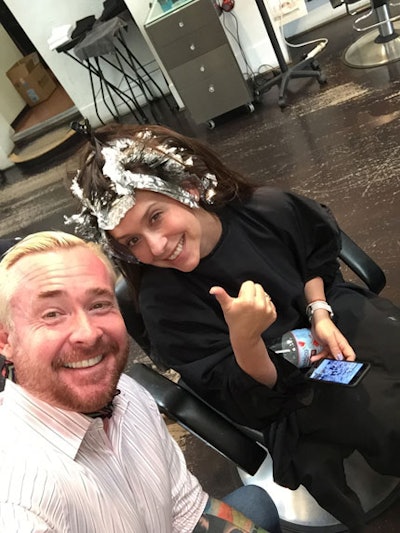 Get the Look:
Says Sean, "Step one: highlighted through the hair. I lifted the hair with Wella Blondor and 30 volume, taking nice fine slices and foiling them. I did a three-quarter head, making sure I got good coverage, taking slices underneath as well. I also added all Olaplex to ensure that the hair was left in great condition.
"I then used PRAVANA Wild Orchid and mixed a little 'Splat' Crimson Obsession at the roots [to allow for] some depth of color.
"I [let the color] sit on for 20 minutes under heat.
"[I shampooed the hair with] Kerastase Réflection Bain Chroma Captive and Lait Vital. I like the sulphate-free.
"I blow-dried the hair with my new FHI Blowdryer and my own, new SEAN JAMES Detangling Round Brush, which will be on the market soon. I finished it off with the large barrel FHI curling iron. I love the heat they produce.

"Jennifer was very happy; her husband, Brian Hallisay, showed up at the end with their daughter, 'loving it.' I'm looking forward to the next time I see her. Home maintenance was the Kerastase as above and the take-home Olaplex Hair Perfector."