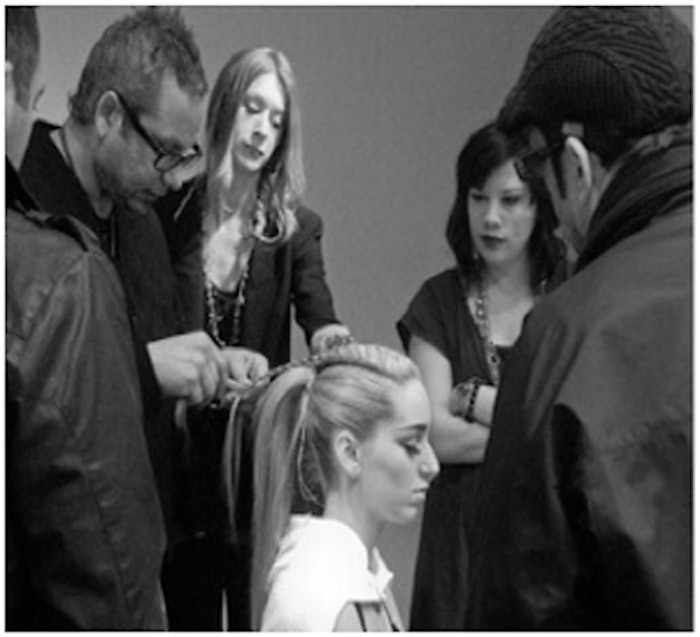 The ponytail. "Often seen as the answer to bad hair days, the ponytail's purpose, use and level of importance runs deeper than being just a standard quick fix," says Claudio Lazo, owner of C The Salon in Studio City, Ca. Though it is able to stand alone for casual and chic looks, its function in creating other styles is tantamount. Anything from a simple bun, a chignon, to more elaborate twists and updos, the initial action, or 'basic first step,' is always collecting and sweeping the hair away from the face towards the back, sides or crown and anchoring it there. A ponytail.

Claudio says by learning and understanding the 'classic,' important and basic nature of the ponytail, it allows the wearer or stylist the ability to start with this simple step and build upon that to create their masterpiece. He stresses the importance of stylists to attend 'styling classes' in order to understand the basics of certain classics such as this when honing their skills. As with the classic 'bob' haircut, which gained it's fame and popularity in the 1920's with actresses such as Louise Brooks and Joan Crawford stamping its place in hair history, the evolution of this classic morphed over the decades into styles such as the famed "Page Boy" and is even influencing today's fashion runways like Rodarte's 'textured' bobs for his Fall 2012 collection. The basic foundation is evident that it's the classic 'bob'.

On it's own, the simple positioning of the ponytail tells its own story. At the Crown, the look you give can be modern and futuristic to even high fashion and runway. Mid level ponytails evoke an air of casualness and fun. However, if pulled together low and tight at the nape or low and slightly to the side, a more chic and sophisticated look is created.  

From these basic positions the wearer can go in many different directions. If anchored at the top or crown, the 'tail' can be fanned out to cascade down not only the back but the sides as well. Dual and even triple ponytails, with one slightly higher than other, allows for an overlapped effect. From there you can curl, braid, tease, twist, tuck and even add  fabrics to interweave through it to create your desired result. Headbands, pins and even barrettes can be used to accessorize and small tendrils can be pulled to cascade and frame the face. And for more dramatic effects, when parted and anchored in strategic positions around the head, there is no limit to what you can do with creating elaborate updo's, falls, shilouettes and twists. From special occasions such as weddings, formal events, evenings on the town to just casual gatherings with friends (and even bad hair days), this one simple step opens up many doors of possibilities.

From knowing and understanding the basics your possibilities are endless.
[Images courtesy of P3R Publicity]
Related:  Backstage Beauty: Issey Miyake Fall 2012  |  Backstage Beauty Bit: Monique Lhuillier Spring/Summer 2012  |  Backstage Beauty: Christian Siriano Fall 2012  |  Water Babies  |  Five Summer Tips for Curly Hair  |  Quick Summer Hair Fixes from the Experts at Sally Hershberger  |  Summer Hair Style: High Top Knot  |  Umberto Savone's Sexy Summer Hair Tips  |  Hair Style Tips: Surfer Highlights  |  Hair Care for Pool and Beach