Lashes, lips and skin get primed for the season—a necessary step to support bold eye designs and stand-out pouts.
Marc Jacobs Beauty Velvet Lash Primer: Nixing traditional white in favor of soft beige, this ultra-plush primer won't gray down your dark mascara as it delivers lash-conditioning peptides and vitamin B5. 
Fenty Beauty Killawatt Freestyle Highlighter: Two new shades join this melt-into-skin, creamy, blotch-free skin enhancer: Wattabrat, a 3-D baby pink shimmer that glows cheeks to perfection, and Chillz, an iridescent baby blue that stuns on collarbones.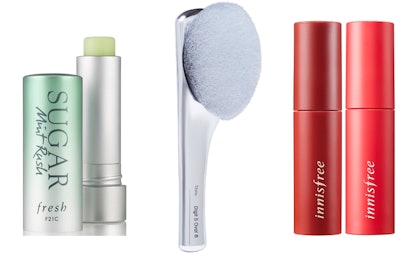 Fresh Sugar Mint Rush Freshening Lip Treatment: A nourishing base for any lip hue, this unique formula lends a refreshing burst of mint each time lips are pressed together thanks to time- release technology and a cooling encapsulation system. 
Artis Digit Skincare Brushes: These pre-makeup skin-preppers, now available for individual purchase, feature proprietary CosmeFibre that
allows serums, creams and oils to seamlessly slip off the hairs onto the skin for an even application and no wasted product. (Shown: Digit Skincare Oval 8.) 
Innisfree Vivid Cotton Ink: Mimicking the effect of mouths tinged by popsicles, these 15 bold matte hues stain lips with a light-as-air formula that won't dry out pouts. (Shown: Merlot, Bright Watermelon and Bright Orange.)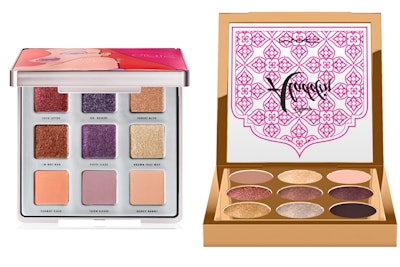 Film Magic
Two new eye shadow palettes glean inspiration from leading ladies, one old, one new—and both cartoons (more or less): Ciaté London The Jessica Palette and MAC Princess Jasmine Eyeshadow x 9. Based on the curvaceous redhead Jessica Rabbit who seduced with just one eye in the 1988 film Who Framed Roger Rabbit, the nine-hue palette contains colors like copper I'm Not Bad and shimmering violet Oh, Roger! Tapping the fearless beauty Princess Jasmine in the new live action lm Aladdin, the MAC Jasmine Palette delivers six full- coverage foil and three matte finishes in a genie-approved range of purples and burgundies.
[Images: Courtesy of manufacturers]