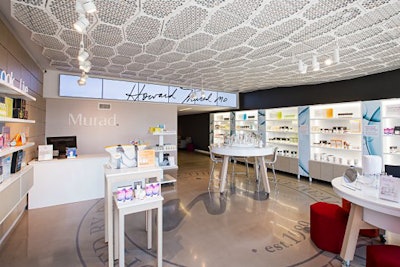 Murad's flagship store just expanded its professional line.
Technoceuticals is a new system that combines Murad's signature professional treatments with breakthrough at-home solutions to effectively target specific skin concerns and help combat cellular dehydration.
The line features concentrated treatments with key ingredients that address aging on a cellular level. These products works to re-activate mature skin cells, which corrects and prevents visible signs of aging. In addition to improving skin's health at a cellular level, these high-performance peels and treatments work in synergy to effectively target individual concerns, such as fine lines and wrinkles, dullness and acne.
Before getting started on your facial, an esthetician will sit the client down at the YouthCam, a camera which can identify fine lines and wrinkles, pigmentation, redness, inflammation and pore size on all levels of the skin. It also has the ability to show how your skin will age either with treatments or without. My esthetician was Jessica DePue, and she helped determine that my focus on skincare should be hydration and avoiding further pigmentation.
During my facial, DePue shared one of Dr. Murad's favorite tips for hydration with me—eat your water. She said that drinking water is important, but eating foods with a high water content helps hydrate your body in other important ways.
After finishing the treatment, clients can have retail options to keep the skin post-facial fresh. Wrinkle Solution Professional Concentrate, Brightening Boost Professional Concentrate, and Clarity Control Professional Concentrate are the three take-home Technoceuticals options. All include Murad's proprietary ReactivCell Technology, which delivers powerful peptides and antioxidant-rich plant extracts to re-energize and revive vibrancy.
To learn more about Murad's professional line, visit the flagship store's website.
[Image courtesy of Murad]