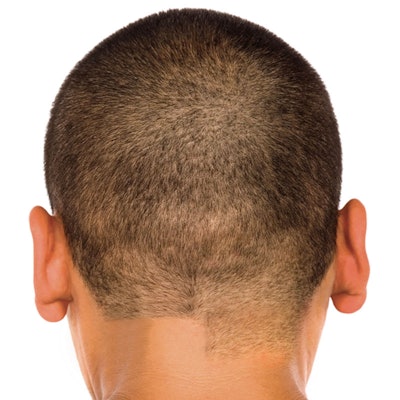 A big no-no for cosmetologists is the use of a razor on the skin. But with the growing men's grooming boom how can hairdressers take advantage of this hot trend? Men more than ever have grooming choices….choices in fashion, skincare and yes, hairstyles. Men are finally turning a corner and are caring just a little more about their hard parts and perfect fades. They are noticing and demanding specific looks and styles and connecting with their outer manhood. But as men's grooming services and the versatility of short haircuts increases in popularity, the little touches that a hairdresser or barber can give their client become big touches your client can't live without.
Having a shaved neckline, sideburns or outline after a short haircut makes the clients' skin feel super smooth and soft creating a more than satisfying experience. Many clients look forward to stroking these hairless areas right after their services. But while barbers have the luxury of using a straight razor blade to do these fine touches, cosmetologists have been left in the dust when it comes to cleaning up these areas…until the Feather Nape and Body Razor.
The Feather Nape and Body Razor is a small folding handle that uses replaceable guarded blades. Manufactured by Feather of Japan, this razor was made specifically for small, tight areas. Even better, every blade has a built-in guard so cosmetologists can use it. A guard on the blade helps to prevent unnecessary cutting of the skin while shaving. And since the blades are replaceable, you can be sure you will always have a sharp blade and maintain sanitation practices. It's because of these features that the Feather Nape and Body Razor is a fast growing tool that's getting into the hands of hairdressers and barbers...and for good reason.
The Nape and Body Razor can be purchased in a kit or by itself. However, the kit gives you the best value as it includes a 10 pack of blades and a 2oz. bottle of Jatai Blade Glide alongside the razor. Blade Glide is a superior haircutting and shaving lotion that help extend the life of the blades and equalizes hair porosity. It's also great as a leave-in conditioner and moisturizes the skin. With its many benefits, Jatai Blade Glide accompanies Feather razors perfectly for both shaving and hair razor cutting.
While you can use this razor for men's grooming, it's also a great tool for shaping eyebrows and shaving other undesirable body hair. If you'd like to see videos of how to change the blades or how to use it on a client, you can take a stroll at JataiAcademy.com for a wealth of videos. There you will find instructional and product knowledge videos on how to use and maneuver the Nape and Body Razor. And if you're still not sure, check out Vivienne Mackinder. She's been a big proponent!
Many hairdressers use the Feather Styling Razor to clean up the neckline, but this razor was not made to get close to the skin since the guard protrudes past the blade. With the Nape & Body Razor you can touch the blade directly against the skin.
So the next time you have a client asking for a short haircut, ask yourself if you are giving the best service possible. A clean shaven neckline and sideburns can be that extra added touch that will make him or her come back to you each and every time.
To learn more or purchase the Feather Nape and Body Razor, visit Jatai.net and look under the Feather products category. Or you can find it at your local Salon Centric and Cosmoprof stores. The Nape and Body Razor will change the way you do short haircuts forever.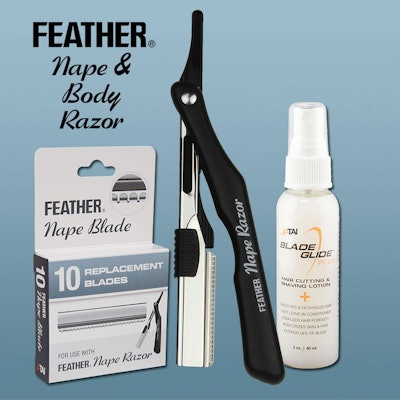 Important features of the Nape & Body Razor:
SMALL FOLDING HANDLE allows you hold it like a small straight razor to get very detailed in your shaving
SHORT BLADE allows you to get into small tight areas
BUILT-IN GUARD prevents cutting of the skin and enables cosmetologists to use in on their clients
REPLACEABLE BLADES to maintain sharpness and sanitation practices
To learn more, please visit jatai.net.
[Images and video courtesy of Jatai]