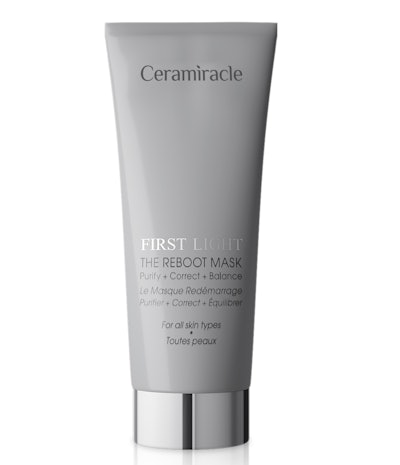 Ceramiracle developed FIRST LIGHT The Reboot Mask, a clay mask made from exfoliating black volcanic sand and a traditional Korean botanical extract that restores the balance of your skin. Partnering for the first time with cosmetic scientist Sarang Kim, Ceramiracle combines their California formulation technology with the latest in Korean beauty trends.
FIRST LIGHT The Reboot Mask is a fresh start for your face. It lifts away grime, dirt and dead cells, setting skin back to its original state. It leaves your face smoother, softer and more radiant, while simultaneously prepping the skin to improve effectiveness of serums and moisturizers. More than a cleansing clay mask - it conditions and nourishes the skin just like a Korean sheet mask.
The Reboot Mask is a remarkable mixture of rare black volcanic sand and traditional bioferment essence. What makes black volcanic sand so special? It's a lava-formed deep black sand, and can even be found on the moon. Black volcanic sand's fine and round particles provide a natural, even exfoliation and deep cleansing that will restore vitality and glow to your face.
Ceramiracle and Kim co-developed the proprietary bioferment essence, BFE Complex, a fermented botanical extract containing three Korean staples: rice, ginseng and mugwort (a plant commonly used in traditional Korean medicine). BFE Complex was inspired by a 2000-year-old recipe for ginseng wine, dating back to 18 BC and originally used to cleanse and treat dry skin. FIRST LIGHT The Reboot Mask contains over 25% of this traditional anti-aging element and is formulated without heavy perfumes, parabens, phenoxyethanol or methylisothiazolinone.
Part of the FIRST LIGHT collection, The Reboot Mask is manufactured in Korea and made exclusively for Ceramiracle. For exceptional results, follow mask with FIRST LIGHT The Serum, a revolutionary moisturizer that works with your skin to strengthen its natural barrier and restore smoothness and radiance. Also available in the FIRST LIGHT collection is Ceramides Skin Supplement, which hydrates and moisturizes from the inside out for visible wrinkle reduction.
FIRST LIGHT The Reboot Mask is available on ceramiracle.com.
[Image courtesy of Ceramiracle]