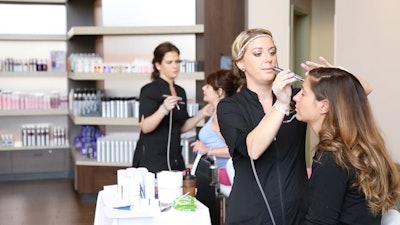 The HydraFacial Company has been a name in the spa industry for years, but their newest system is perfect for salons looking to offer more.
Perk is a hybrid skincare system that combines cutting-edge technology with exfoliating, nourishing ingredients. It can plump up lips, minimize the dark areas around eyes, or give the face an almost-instant glow, in about 10 minutes each. It doesn't add time, but can add up to $70 per ticket.
While skincare regimens like this can typically be seen as spa-exclusive treatments, Perk's machines are perfect for ramping up the revenue and offerings in hair salons.  It is a quick system that can optimize the downtime while hair color processes. The mobile machine can easily move around the salon, so the treatments can happen in the cutting chair.
Clients love the system because it's inexpensive, simple, and effective. The technology targets sensitive areas by removing dead skin cells and impurities while delivering antioxidants into the skin.
The services can also be mixed and matched. Clients can get one or two treatments at a time—they don't have to commit to all three.  Also, after every Perk service, the client takes an antioxidant-filled vial home, which can extend the nourishing benefits for up to 30 days, so their face and roots will be ready for touch-ups at the same time!
Mike Van den Abbeel of Mosaic Hair Studio & Blowout Bar has been using Perk in his salon.
"When we were introduced to the Perk machine we instantly knew that this was exactly what we were looking for for our salon," Abbeel said. "Having recently done a salon expansion to include spa services such as facials and skin care, we needed something that would bridge our salon side with the spa side. Perk does this beautifully. We do the Perk treatments while color clients are processing, so this gives my aesthetician a change to introduce herself, answer any skin questions and establish a relationship with our clientele. The treatments are fast and efficient, and clients love that they can multitask skincare with hair care. It has been a win-win for us."
Testimonials are great, but click here to experience Perk firsthand, by entering for a salon takeover.  Selected salons will receive in-person product demos and get free treatments!