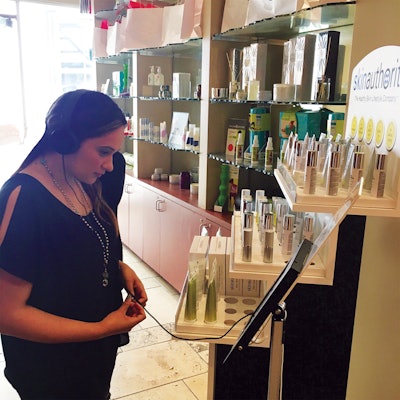 Salons in the Salon Services family will soon be able to offer their clients virtual skin coaching with Skin Authority's My Skin Authority app. Participating salons will feature kiosks, equipped with iPads, where customers can virtually connect with trained skin coaches to ask skincare-related questions, place orders, and more.
"My Skin Authority allows the salon to have extra hands during rush hours or when they are short staffed, but, most importantly, the app allows the consumer to ask questions or have support when they get home to ensure a great customer service experience," says Skin Authority CEO and Co-founder Celeste Hilling. "A guest could be in a salon standing in front of the products and have a Skin Coach work with them via the app to select the products that work best for them. The app also allows the consumer to Skype or FaceTime if they want the coach to see their skin."
The Virtual Skin Coaching kiosks will benefit both salon guests and salons themselves, providing a knowledgeable source when customers have difficult-to-answer questions, boosting salon sales, and saving salon owners the cost of training a new employee. Additionally, the kiosks will enable revenue share from purchases made elsewhere by tagging guests with the salon as part of their permanent record in Skin Authority's database.
Hilling adds, "The beauty of My Skin Authority is that we reach out on behalf of the salon partner… We harness the power of everyone having a mobile device in their hand and showcase the personal touch that brings. The app uses technology to automate processes and remove obstacles that stand in the way of selling."
For more information, please visit www.skinauthority.com.