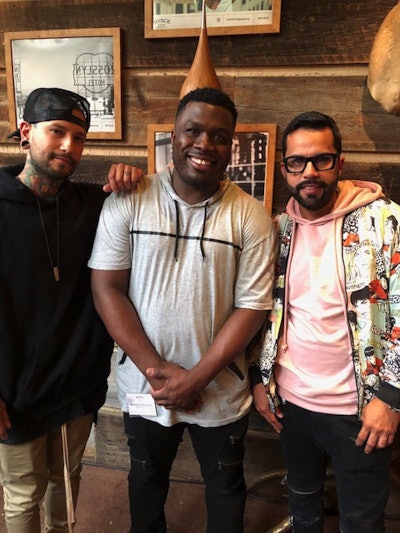 Introducing the new guy on the block: John Paul Mitchell Systems' (JPMS) MVRCK Barbering by MITCH, an all-encompassing grooming line created by barbers, for barbers. To celebrate the launch, the brand hosted a special event at Kick Axe in Brooklyn, New York, where guests got a chance to throw axes, mingle, and enjoy a barbeque spread.
Featured MVRCK barbers—Fern the Barber, Brandon Palmore and Jason Reyes—were on hand to chat with attendees one-on-one throughout the night. Getting the products to launch took over two years, with all design aspects considered from start to finish, the guys explain. "We asked, 'What can we do for the barbering community, hairdressers, and the consumer that is not out there yet?'" says Reyes of the major gap JPMS spotted in the male market.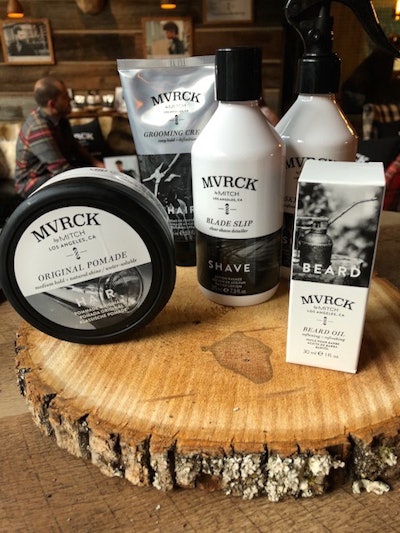 MVRCK covers all bases, from a grooming spray that thickens locks to a luxe beard oil—all shave, beard and hair needs are accounted for through the line's diverse range.
"When it comes to products, for me, it's about versatility within a product line," explains Palmore. "If I only have one product for one type of guest, I'm losing money."
Adds Fern, "I'm all about quality, and these products meet my needs and more."  
Images: Emilie Branch