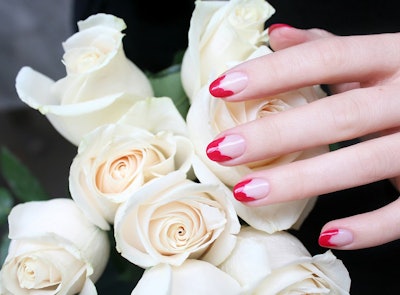 For Mother's Day this year, manicurist Jin Soon Choi was inspired by the delicateness of flower petals to create a pretty - yet bold - nail look. Whether you treat your mom to a day at the salon, or your client simply wants a fun twist on a classic French mani, this look is sure to impress this Mother's Day!
Get the Look:
Apply JINsoon Power Coat.
Apply 2 coats of JINsoon Muse.
Using a striping brush, draw 2 arcs on both sides of the nail meeting at the center of the nail using JINsoon Cherry Berry.
Fill in the shape you created in step 3 with JINsoon Cherry Berry.
Apply JINsoon Top Gloss to finish the look.