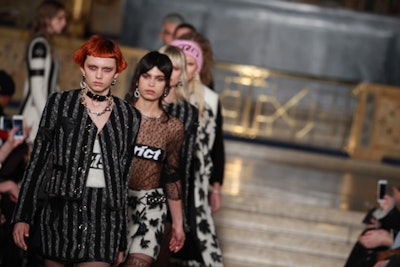 The past is where you learn; the present is where you apply what you've learned
 It's New York Fashion Week this week, a time I Iook forward to seeing the talented work of numerous incredible designers, hairstylists and makeup artists.   It's one of the most inspiring events in our industry, because so many greats are collaboratively expressing their creativity, and that's when all the good stuff happens.  It's also amazing because there's a spotlight on the beauty and fashion industry, professionals and consumers alike have access to the shows paying tribute to the talent and their accomplishments.
These accomplishments usually present themselves as trends – whether in clothing, hair or makeup – and I'm fascinated by the evolution of these trends.  When you think about it, each season is usually a spinoff of the previous season – just a softer or more dramatic rendition. Trends tend to have a life span of more than just one season for many reasons, but the two most important in our industry are: 1. Sometimes it can take awhile for guests to warm up to a new look.  2. Stylists have to master the techniques needed to create new looks.
 I enlisted the help of Geneva Cowen, our Artistic Director, to compare some of the trends from the Spring 2016 shows to the Fall 2016 shows to see how they've evolved and to give some tips on how to adapt these trends for the everyday woman.
Diane von Furstenburg
Spring 2016: Larger, multi-textured curls -
Fall 2016: Looser, straighter waves -
Curl
Step 1: Horizontally section hair about 2" wide and 2" deep, depending on hair texture and density. Lightly spray with Redken iron shape 11 finishing thermal spray and comb to ensure there are no tangles.  Place the Sam Villa Signature Series Sleekr Professional Straightening Iron at the new growth area and rotate section one complete turn, as if using a curling iron. Keep ends in the opposite hand for control so the section is wrapped around the outside of the iron.  Continue to pull the hair through the iron by using light tension and gently tapping the plates.
Step 2: Gently slide the iron horizontally out of the section using fingers to support the curl. Let cool for 30 seconds for a soft wave or pin with curl clips for maximum curl.
Step 3: Once all sections are complete, use fingers to break up curl gently for a tousled modern look.
Alexander Wang
Spring 2016: Freedom and modern individuality - enhancing natural texture and shape
Fall 2016: Graphic fringe and organic shapes accented with a shiny polished finish -
Graphic Fringe
One of the challenges in cutting graphic fringe is some guests may not have the ideal face shape or density/texture to support the look.  We all know an oval face shape is ideal for most cuts, but with graphic fringe you need to take the guest's profile into consideration and be extremely honest about it. If they do not have the profile or the density/texture for the look, you will need to explain why you have to adjust the length to meet the needs of the shape of their face.
Here's a clip on creating short graphic fringe on a model that happens to have very dense hair along with a very low front hairline. She also has very dark that will not reflect light enough unless enough pieces are cut away. I know you're probably thinking that a dry cutting shear would be good for this, but try using a Sam Villa Signature Series 5.75" Wet Cutting Shear, it allows the hair to slide through the blades easier which is ideal for cutting fringe.  Video:
I always say, "The past is where you learn; the present is where you apply what you've learned."  So think about all the techniques you've learned so far in your career and how you can apply them today.  Add imperfection, get inspired by 90's glamour, take those 70's looks and add modern finishes, start fusing detached cuts with precision techniques and use tiered layering to minimize shapes that are enhanced with hidden detachment.  It's up to you to get inspired by trends and make them your own, not only for you, but also for your guests. They look to YOU for inspiration too!  It's all a cycle, you can always look to the past to influence the future, and you can ALWAYS put your own creative stamp on it.
Aspire for More!
Sam