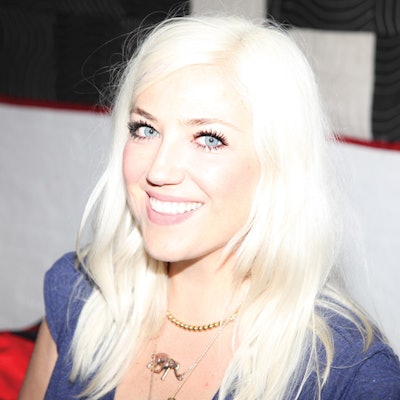 Ever spot a lush lash on a Sports Illustrated cover model? That primo fringe likely came from the wand of makeup artist Tracy Murphy, lash maestro to countless glamazons. Though she admits to wearing a "ton of mascara" herself, she asserts that a dramatic lash line isn't her only signature; rather, Murphy's all about delivering truly personalize beauty, no matter the job requirements. "I love the opportunity to take each client and tailor the makeup to the circumstances, look or direction. It's incredibly important to me to make each person in my chair feel good, empowered and looked after," Murphy says. Such a sentiment echoes her approach to makeup: "I'm all about freedom an fun. Makeup should help express who you are—whether you wear a blue smoky eye or a shimmering bronzed face or even nothing at all," she says. "I love RuPaul's quote: 'You're born naked and the rest is drag.' at sums up not only my makeup philosophy, but also my life philosophy!" Here, Murphy's essentials for empowering beauty.
RELATED: Kit Essentials - 5 Spring Makeup Products

RELATED: In My Kit - Makeup Artist Anne Kohlhagen
1) For Tools That Last: Hakuhodo Brushes "They're handmade in Japan and last a lifetime. The brand offers so many shapes and uses, but I nd that the eye shadow brushes are particularly mind- blowing. I couldn't do my job without these brushes! They're an investment, yes, but 100-percent worth it."
2) For Otherwordly Skin: Black Up Strobing Primer "This primer creates a subtle, warm glow on any skin tone. I like to mix it with moisturizer and apply it to the skin before foundation to create a lit-from-within glow."
3) For a Perfect Set Brow: Anastasia Beverly Hills Clear Brow Gel "I've tried everything under the sun in terms of brow gel. This stuff works: Brows stay put. I never even think of finishing a face without grooming the brows and ensuring that every hair is perfectly set with this gel."
4) For Naturally Gorgeous Skin: Koh Gen Do Maifanshi Moisture Foundation "I can't live without this. The colors are perfection for every skin tone, the texture is incredible and the formula blends seamlessly into skin. It gives the perfect amount of coverage so that skin looks like real skin—only better."
5) For Repeat Refreshes: Trilogy Hydrating Mist Toner "This hydrates and preps skin before I apply Trilogy Vital Moisturizing Cream infused with a few drops of Trilogy Certified Organic Rosehip Oil. But, I also love to use the toner to refresh the skin throughout the day—and it smells like heaven!"
6) For an Airbrushed Finish: Alcone Latex Sponges "These have an aerated bounce to them that helps to apply product; it's like magic! Also crucial: They lend a seamless, airbrushed-like finish to any skin makeup, making them perfect for finishing work. And, since they're triangular, their many edges can be used to clean up mistakes or give definition."
This story first appeared in the March/April issue of Eyelash magazine. To receive the magazine, click here to subscribe.
[Images: Courtesy of Anne Kohlhagen; manufacturers]