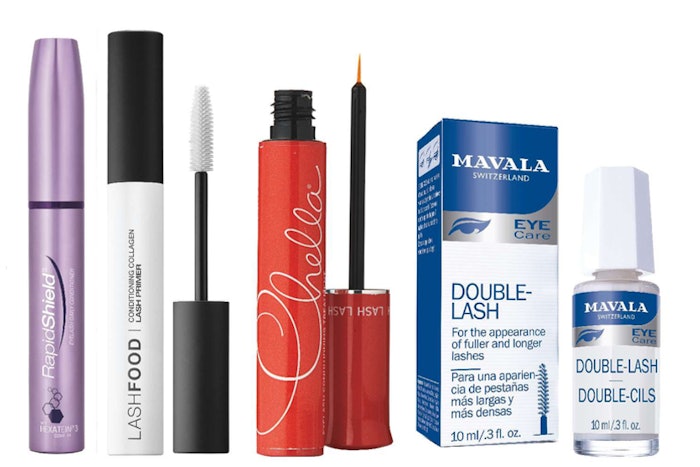 Post extensions, lashes can seem sparse. Enhance natural lashes with these one-tube wonders that prime, protect and refresh.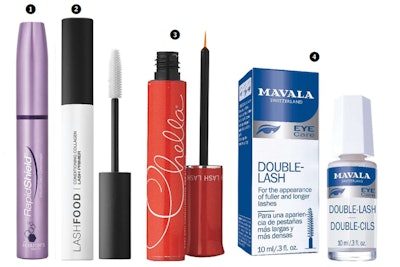 1)  RapidShield Eyelash Daily Conditioner: Formulated with powerfully nourishing ingredients, including silk amino acids, biotin, pumpkin seed extract and proprietary Hexatein 3 Complex, this daily serum improves the overall appearance and condition of lashes in just two weeks. Use alone as a conditioner or as a primer under mascara. 
2) LashFood Conditioning Collagen Lash Primer: Use this daytime nourishing lash mask packed with a nano-peptide complex, collagen and panthenol for longer, thicker and stronger-looking lashes. Plus, the micro-thickening fibers can boost the look of natural lashes when paired with mascara.
3) Chella Eyelash Conditioning Treatment: This prostaglandin-free formula filled with peptides, antioxidants and bio-active signaling molecules allows for the appearance of longer- and thicker- looking lashes safely and gently. Use sparingly for two to four weeks daily for luscious results. 
4) Mavala Double Lash: Create the appearance of longer and denser lashes with this vitamin- and protein-rich formula. Brush on the lash line at night to condition natural lashes.
RELATED: How to Effectively Boost Business by Selling Aftercare Products
Lash Lusts
Keep lashes looking their fullest with these must-have product picks.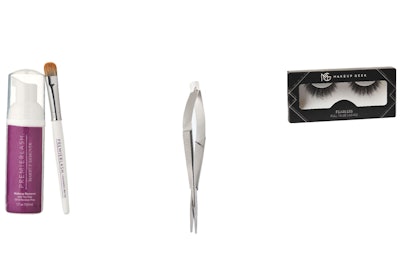 Premier Lash PL Tea Tree Cleanser & Cleansing Brush: Prep lashes before extension services with this lightweight foam cleanser boosted with tea tree extract and other natural ingredients for great retention. Or retail the pH- balanced cleanser and brush to clients to strip away dirt, oil and makeup at the end of the day for a healthy lash line.
Qosmedix ​Flexi-Scissor: Trim brows or snip falsies with this precision scissor featuring a textured nonslip grip for the ultimate control.
Makeup Geek Fearless False Lashes Whether adding an extra flick of lash or all-out glam batters, the multidimensional Makeup Geek lashes create extra length quickly and easily. Use rubbing alcohol to remove lash glue from the black band for reuse—up to 10 times per pair.
This story first appeared in the January/February issue of Eyelash magazine. To receive the magazine, click here to subscribe.
[Image: Armando Sanchez; manufacturers]