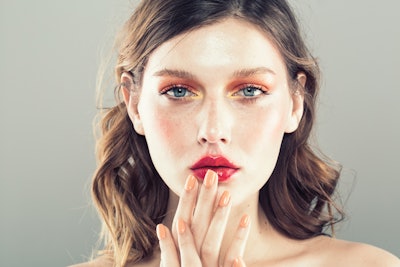 Patchy Imperfections. A just bitten hint of color. Pigment that bleeds well beyond a pout's edges. No, these aren't makeup mistakes; they're the product of a runway lip trend that appears to have the most staying power for Fall 2017: stained lips. "I think heavy, matte looks are getting a little tired. It's nice to swing away from that esthetic and get a breath of fresh air with a look that feels lighter," says makeup artist Lindsey Williams, who works with magazines such as Marie Claire and Fitness. "Stains are a really sexy look when done well—and who doesn't want to put a lip on and not have to think about it for the rest of the day?" she says. Here, our pros break down how to make your pigmented mark with this no-budge lip look. 
Prep Required
Because lip stains do what they say—stain—they can grab at, and not let go of, any lip inconsistencies, such as dry, flaking skin. though patchy pigment may have a place on the runways and in editorial shoots, most everybody agrees a prepped pout services this trend best. "Exfoliate, exfoliate, exfoliate!" exclaims Williams, who uses Kiko Pure Clean Scrub & Peel wipes whenever dealing with peeling lips.
Careful, gentle exfoliation should help rid flakes quickly—but that's not where the prep ends. e next step: lip balm—and loads of it. "When I begin doing makeup, I prep the skin and will use my favorite balm, Lucas' Papaw Ointment, generously on the lips. By the time I am ready to apply the lip stain, the balm's had a chance to absorb into and plump up the lips," says editorial and bridal makeup artist Cari Duprey.
Kristine Cruz, senior makeup artist at Antonio Prieto Salon in NYC, says to advise your client to start a lipcare routine packed with hydration and as much exfoliation "as needed" well in advance of the staining. "Plain and simple: A clean canvas is the key to a flawlessly stained pout," she says. 
Formula Preference
If you choose to work with this medium, you may want to figure out what matters most to you in a lip stain—and then drop your hard-earned cash on the best fit. "When I purchase a lip stain, I look for staying power, texture, how it dries down and the variety of shades that the brand offers," says makeup artist Azra Red, who counts Tarte Cosmetics and Barneys New York among her clients. Duprey agrees that color trumps all other factors for her, while layering capabilities come in at a close second. "I like sheer formulas that you can build up or use in conjunction with other lip products," she says.
Viscosity ranks high for Williams when she seeks out lip stains. "I prefer creamier stains with hydrating properties that I can diffuse into the lip and build the tone as needed," she says. "I don't lean toward the runnier, liquid formulas as they typically stain on contact and you don't have as much wiggle room to bu and blend." And, trust us: You may need those extra few seconds to get the look right. 
Applicators Matter
As far as pout products go, lip stains tend to have a diverse range of included applicators—think: felt markers, skinny bristle brushes, at wands and more. But for the makeup artist these included applicators are a moot point. "I never apply using the actual applicator the product comes with for sanitary reasons," Duprey says. Instead, she assesses what her intended look will be, and then goes in one of two different directions. "If I want a 'just-bitten' look, I use my fingers to apply, and if I want a more opaque stain, I use a brush," she says.
While ngers allow pros to blur the color more effectively, makeup artist Colleen Runné, who works with celebrities such as Jennifer Connelly and Brooke Shields, says that a soft, wide, fluffy shadow brush can also be a stain savior (depending, again, on the coveted end result and product consistency). Williams agrees, "I almost always use a fluffy brush, like the Cozzette S175 Eye Contour Brush, to stipple on the shade. Using a fluffier brush gives me the ability to build the stain without it looking painted on." 
Working with Stains
Because stains can set quickly, premeditation nets ultimate stain success. "Start small and begin the application in the center of the lips. If you're unsure about your stain color and placement, put a decent amount of balm on the lips first, and then play around with the amount of pressure and delicacy you'll need to diffuse the lip color," says Williams. is way, if the color and placement don't meet your client's needs, you can easily wipe o the stain and start again. "You'll have a far less messy stain that way with the balm as a barrier," says Williams.
Unlike liquid lipstick, stains apply more sheer—but that doesn't mean they lack in the intensity department. "The key to getting the right intensity is to let each coat dry between application," says Duprey. However, she warns that some stains don't dry down to a completely matte finish, and instead remain slightly tacky. "these types of stains can go patchy if you apply a few coats," she laments.If you're looking to build opaque, consistent color, choose a matte finish stain.
Surprisingly, stains have plenty of flexibility—if you manipulate them. The popular stain treatment for editorial artists usually concentrates the color on the center of the lip, mimicking a long night of sipping wine or, as Runné views it, sucking on a popsicle. "But, you can also apply the stain as a wash where you use a softer, small shadow brush, and diffuse the color with a fluffier brush," she says. "Or, you can blend the stain with lip balm to create a diluted stain, but it won't have as much staying power." 
Practicality Vs. Creativity 
In terms of practicality, stains could be just what you need, says Williams. "Stains can give your lip look longer wear when applied under a lipstick or lip gloss, which can benet you in less touch-ups needed if you're on a photo shoot or working with a bride!" she exclaims.
Duprey agrees, adding that she views stains as another way to keep at the forefront of creative trends—especially in editorial. "A makeup artist working in fashion will have to use stains to keep up. But, I use them for both reasons—longevity and being on trend—and also because so many of my clients enjoy having a hint of color without feeling anything heavy on their lips," Duprey says.
And while practicality certainly seems a solid reason to add stains to your lip rotation, Cruz views lip stains as yet another way to ex your artistry. "ey're like playing with paint ...there's no limit to creating and experimenting," she says."That's the beauty of lip stains and their ability to showcase true color and longevity. ... The creativity is endless."
Runway's Best Stains: How They Did It!

–by Karie L. Frost
[Top image: Getty Images, bottom images courtesy of each manufacturer]