Today's luxe strip lashes can cost a pretty penny, and if you're retailing them to your clients, you certainly don't want to be blamed for any premature breakdown due to improper care. We reached out to Lilly Ghalichi, maker of Lilly Lashes by Lilly Ghalichi (loved by Jennifer Lopez and Lady Gaga!), to lend her expertise on best practices for extending strip lashes' lives. Not surprisingly, she's a big believer in reusing lashes; for Lilly Lashes, if care is taken, Ghalichi says they can be worn 25 to 30 times. After all: Nobody wants her falsies to be one and done!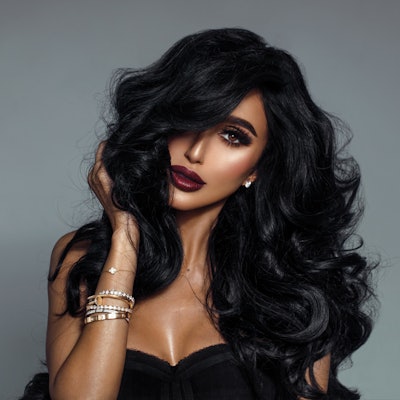 How do you keep lashes clean to preserve them?
Apply mascara to your own lashes rst, wait for it to dry, and then apply your strip lashes. This way, no mascara buildup ever gets on the false lashes, which extends their life and the number of wears.
What about lash adhesive buildup?
To make sure lash adhesive dosen't build up on the band, when you remove the lashes after wear, use tweezers to gently remove any stuck-on glue. Be sure to do this after every use if you want to prevent buildup.
How do you store falsies?
Our lashes come in an easy-to-carry luxury storage box. When you're done wearing them, you can put them back in the box until you're ready to be glam again!
What's your best advice if falsies start to lose their shape?
Gently brush them with a clean mascara spoolie; this will not only clean them, but will help to put them back to a beautiful curl.
Any extra faux lash-saving tips?
Don't get falsies wet! [When you're paying for luxury lashes like] Lilly Lashes, they're handmade—and, for our brand, even hand-styled—to have their gorgeous utter and are. Think of it as getting your hair wet: The beautiful style you spent hours on will be ruined. Same idea!