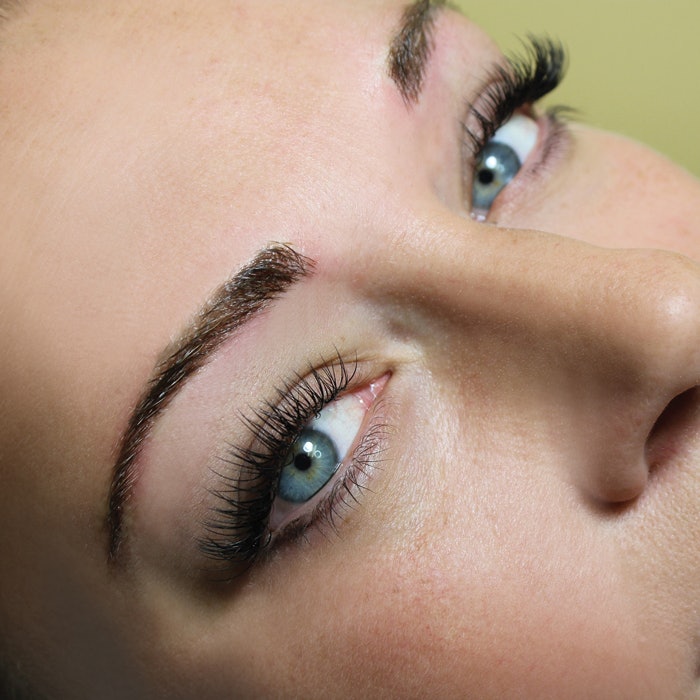 From microblading to lash enhancements, permanent brow and eye makeup services are taking the beauty business by storm. Here's what you need to know about adding these offerings to your menu.
There was a time when cosmetic tattooing was a niche beauty service, often relegated to women of a certain age, and typically associated with a harsh and unnatural look. But with the introduction of new techniques and the massive demand for more defined eyes and full, flawless arches, the permanent makeup business— particularly semipermanent services—is surging in popularity.
Among the most in-demand services is microblading, also sometimes called eyebrow embroidery, microstroking or feather touch. "Technically, microblading is a form of eyebrow tattooing—but unlike traditional tattooing, which uses a machine, microblading artists apply each hairstroke with a handheld microblade," says Lindsey Ta, founder of Microblading LA Studio & Academy in the Los Angeles area, where celebrities including Bella Thorne and Kathy Griffin have received the service. "This produces a very fine line that resembles real hair." Microshading (also known as filled, powdered or ombré microshading) is making headlines in the brow category as well. "Microshading is definitely the next trend—it's more of a powder look and can be done with a machine or hand tool," says Ta, who adds that the procedure is increasingly being combined with microblading to yield gorgeous, natural-looking results.
RELATED: Lash Artists Need Top-Quality Training to Stay Ahead of the Curve
Eyelash enhancements are getting plenty of attention as well. "A lash enhancement is like an eyeliner tattoo, except that the pigment is deposited at the base of the lashes, right by the waterline, instead of above the lashline," says Lynn La Palermo, master trainer and owner of Occhi' Lash & Brow Studio in Oakbrook Terrace, Illinois. "If a client is wearing extensions, it makes the lashes pop that much more, and if a client isn't wearing extensions, it makes her natural lashes look denser because you're filling in those little gaps of flesh [between lashes]."
Tina Davies, creator of Harmony Microblade and owner of Natural Effects Permanent Makeup in Toronto, Ontario, Canada, says that eyelash tattoos are even getting a trendy update. "One new technique for permanent eyeliner is what we're calling 'smoky eyeliner.' It's a procedure that involves soft, smoky edges," she says.
Of course, offering these services requires a whole new set of skills. The good news? Eyebrow and eyeliner tattooing are not only the most sought-after permanent makeup services, but the easiest procedures to master, according to the Society of Permanent Cosmetic Professionals (SPCP) in Des Plaines, Illinois. "Nail technicians, artists and anyone with a steady hand are especially great first-time microblading artists," notes Ta. Better still, because the services command a considerable fee, your earnings could increase exponentially. Have we got your attention yet? Then read on.
Getting Qualified
According to the SPCP, licensing requirements and regulations for cosmetic tattooing, which includes microblading, vary by region. "Check the government website for your state's laws on permanent makeup," advises Genie Schmidt, co-owner of EZ Permanent Makeup in Liberty Lake, Washington. "More and more states now require a license and a specific number of training hours, and you may also need to attend classes in the state where you'll be working." The SPCP notes that courses typically cover a variety of topics and techniques, including color analysis, color theory, proper handling of equipment and prevention of cross-contamination, as well as practice work and observing procedures prior to performing them under supervision.
RELATED: The Lash & Brow Academy and NovaLash Offer Classes in California
As you seek out training programs, be sure to fully vet the curriculum and instructors prior to enrolling, and don't rely solely on a certification for one specific service. "If you're entering the industry as a microblading artist, you must learn the fundamentals of permanent makeup in general," explains Ta. "You cannot just learn one technique; it's a cosmetic tattoo, and you have to understand what happens in the skin with the ink over time." Ta suggests looking for instructors who have at least five years of experience with permanent makeup, and who can show you photos demonstrating their skills.
When looking at potential instructors' microblading photos, Davies says, "Focus on healed results versus what the microblading looks like immediately after a procedure." This will give a truer sense of their workmanship. Additionally, Davies points to small class sizes (think: three to four students total) and a curriculum heavily focused on doing live procedures under the guidance of the instructor as being the most beneficial to the novice microblading artist. Agrees Tanya Nguyen, microblading trainer and owner of TNN Beauty in the Greater San Diego area, California, "The biggest pitfall of this field is not having good training. You really must learn from the best, not the cheapest." She nixes online training, stressing that in-person teaching is integral to success. "The instructor can see and correct any mishaps you may be doing before you start working on live models," Nguyen says.
Most states also require insurance, and according to La Palermo, coverage over and above your business liability insurance can run between $1,000 and $1,800 a year. "Usually, an inspection from the Department of Public Health is required, and permanent makeup artists must also pass a loodborne pathogens test in most states," adds Sandra Plasencia, Chicago Permanent Makeup Academy CEO and Master Trainer.
RELATED: Step by Step Tutorial on Lash Cleansing
Even after you've gone through the required training, you'll want to log plenty of practice hours. "The ideal is to shadow and work under somebody who has experience," says Ta. "That's where you're going to get the most guidance after your training—and then it's your own time on skin that's most valuable." La Palermo agrees, noting that she would want a technician to have worked on at least 25 models prior to performing a service on a paying client.
Gearing Up
As you'll discover during training, cosmetic tattooing requires a variety of specialized products and tools. Depending on the service, these will likely include numbing cream, anesthetic, eyebrow rulers, microblading pens, disposable microblades/needles, pigments and possibly a traditional tattoo machine, also known as a coil machine. "Permanent makeup procedures can be done manually or using a machine," says Plasencia. "My favorite is the manual method, as the needles offer total control and less trauma to the skin, which makes for a faster recovery for the client, less chance of scarring and better pigment absorption." She also feels the results last longer and look more natural when using the manual method.
EZ Permanent Makeup carries plenty of the requisite equipment. Another company that Plasencia recommends is SofTap Permanent Cosmetics. "The company's needles are of superb quality and its pigments are very creamy and penetrate the skin easily, allowing the technician to finish faster," she notes. "It's also easy to choose the best color for the client, as SofTap pigments come classified in warm, neutral and cool tones. Plus, touch ups are minimal due to the great pigment retention from the first application."
La Palermo says you have two options for needles—flex and hard—and that flex needles are the better choice for beginners, since they're not as sharp. "Hard needles give great results but they're for a more experienced technician who has mastered her pressure," she explains, adding that she likes the products and tools available through 3D-Beauty and from Tina Davies Professional, along with Li Pigments. "Just be aware that Tina Davies only makes hard needles, so they're not for the novice," La Palermo warns.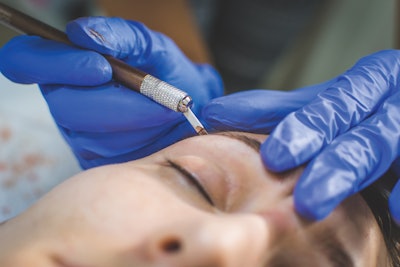 Preventing Pitfalls
Once you've got your training and practice, and have stocked up on the necessary equipment, you may think you're ready to roll. But there's as much of an art to managing client expectations as there is to performing permanent makeup services themselves— particularly with microblading. "When someone calls wanting to get their eyebrows microbladed, we first ask them to come in for a free, 20-minute consultation, where we go over everything and determine whether they're a good candidate," says La Palermo. During that meeting, the prospective client is asked about any medications or illnesses she may have had. "We don't make prospective clients fill out a medical form until they come in for the service, but we do ask if they're diabetic, if they're currently a cancer patient or going through chemotherapy—a number of different health questions that could affect how the skin will respond," La Palermo notes.
Clients with oily skin or who wear oily makeup may also need to be steered away from microblading. "The oil tends to break down the pigment, so I explain that the client won't be happy with the results," says La Palermo. "We try to be very clear about what we can and cannot do." In cases of oily skin, La Palermo and Ta both say that microshading is a better option. "Even though you're breaking the surface of the skin, you're not going as deep as you do with microblading," La Palermo explains. "You're tapping on the surface of the skin with microshading, so the oil won't dissipate the pigment."
To further manage expectations, pros show clients plenty of before-and-after photos and run through all the details of the procedure. They also have clients sign a release form before any services commence. "The more the client knows beforehand, the better the result will be," says Schmidt.
Selling the Services
Pricing for permanent makeup obviously varies by region, with an eyelash enhancement or eyeliner procedure ranging from $300 all the way up to $1,600 (top liner is usually priced higher than bottom), and microblading and microshading commanding from $500 to as much as $2,000. "It's such an investment in time and money to perfect your skills, so if you charge less, you're really underselling yourself and the craft," says Ta. That said, many salons and studios offer pricing on the lower end for services with less experienced techs, and on the higher end for their most seasoned staffers.
Keep in mind that a complimentary touch up within a month or two of the first microblading service is usually included in the price. "That's generally to balance or to fill in spots we may have left a little open to see how the skin heals—that kind of thing," explains La Palermo. From there, although eyeliner services and microshading can last for upward of two years, microblading will typically need to be touched up again within 8 to 12 months, with a price tag of between $150 and $700 (and even more if the client waits longer than a year).
Clearly, permanent makeup services are seriously profitable. But even with the hefty pricing, pros say that the services practically sell themselves. "Because we're a lash and brow studio, we get calls about it all the time," says La Palermo, who adds that the best
way to market the procedures is to perform services on a few people who work in the salon. "Then, show your clients before-and- after pictures of those staff members," she suggests. "Odds are, the clients will be eager to get the services done themselves."
If you're just starting out, social media is another effective way to announce and promote your new offerings—so long as you portray yourself as professional, and your facility as being clean and sanitary. "If you're showing photos or videos of yourself doing the procedure, and you're not wearing a gown, and your client isn't wearing a gown and something to keep her hair off the face, that shows that you don't know what you're doing and you're not being safe," La Palermo explains. Ultimately, the proof—and profits—are in the images you post. So long as you're showcasing the beautiful results you're successfully delivering, odds are you'll be the most sought-out salon in your area.
–by Alexa Joy Sherman