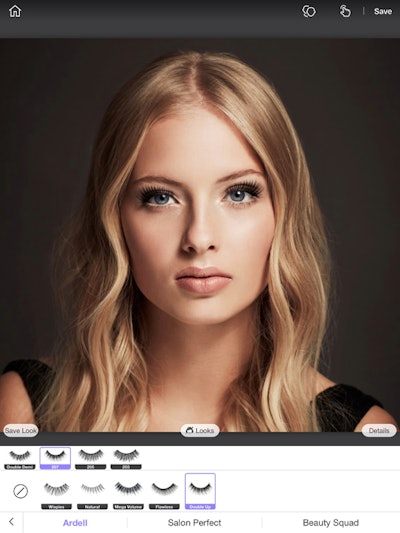 Perfect365 ®, the free makeup and beauty app loved by celebrities and more than 80 million users that is leading the digital beauty evolution, announced a partnership with Ardell, a line of lashes and other beauty products.
Although faux lashes were first developed decades ago, the growing rise in popularity has reached a peak in recent years. Despite this, the nature of lash application and use of adhesives to secure lashes has been a primary barrier to trying on lashes and finding the right pair. Now, with the current advancements in face detection technologies, virtual try-on is emerging as the ideal way to overcome this hurdle.
Ardell is recognized by lash lovers as one of the most desired brands in faux lashes. With this new partnership, Perfect365 users will be able to try on Ardell's most popular lash looks in the lash category of the app. In the brow category, users can click on Ardell brow products in the app and virtually try-on brows of different shapes, colors and intensity. In addition, makeup lovers can also experiment with five different one-tap complete makeup looks that are the perfect complement to Ardell lashes and brows. After finding the perfect lash and brow looks, users can purchase the related Ardell products from directly within the app.
"Ardell is committed to delivering new and innovative ways to discover our products. This technology is now mainstream among customers so the opportunity to give them access to the brand through Perfect365 is very exciting," said Marwan Zreik, Vice President of Marketing for Ardell. "By tapping into Perfect365's dedicated user base we're able to reach new and existing lash users directly at their fingertips."
In the decades following the introduction of the very first Ardell lashes, the brand has earned its title as one of the most widely recognized names in faux lashes by catering not just to women looking to enhance their own beauty, but also to legions of beauty professionals and Hollywood makeup artists. Today, Ardell offers an extensive lash collection with more than 125 different styles to suit every woman, every event and every lifestyle. Ardell's coveted natural looking, lush lashes are now available at thousands of retail and professional outlets worldwide.
Technology is advancing at a rapid pace and its impact to the beauty industry is happening all around us. We are in the midst of a digital beauty evolution, where virtual makeup try on is becoming commonplace. For the lash industry, virtual try-on solves a major barrier in lash experimentation. As a result of this partnership with Ardell, now Perfect365 users can access the world's most popular lashes, try on and purchase all directly from their phone," said Vickie Wei, Director of Marketing, Perfect365.
[Image courtesy of Ardell]