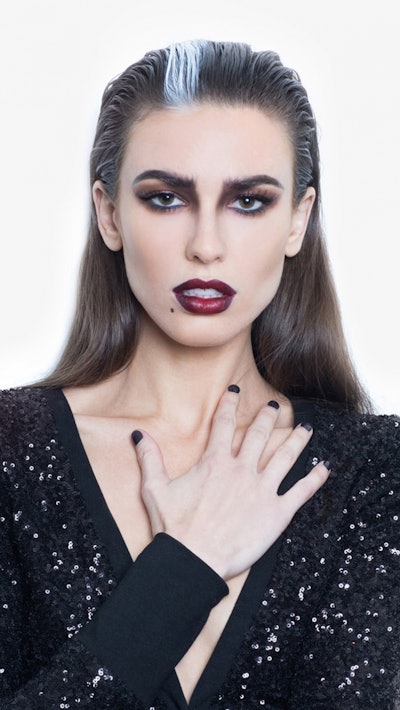 We all know those people who LOVE Halloween — you know, the ones who have their costume all planned out before summer has even come to an end. But then there are those who tend to procrastinate and end up finding themselves frantically browsing through picked-over thrift store costume racks hours before a party. With Halloween just a week away, we've got the perfect tutorial to help take those last minute clients from frantic to fabulous: GLAMSQUAD's Vampy Witch! The look is classic, yet trendy, and deceptively simple to recreate — meaning that your guest can be Halloween-ready in a snap, no matter how last-minute their appointment.
Get the Look: Hair
by GLAMSQUAD Creative Director, Giovanni Vaccaro
Blow-dry freshly washed hair, then flat iron straight back.
Using Kevin Murphy Hair Resort Cream applied with a wide tooth comb, slick strands straight back.
Focus on the front part of the scalp, creating a vertical section from behind the ears to the top of the crown and leaving the mid-shaft to ends dry.
Add a white streak with temporary hair color or hair chalk.
Get the Look: Makeup
by GLAMSQUAD Director of Makeup Artistry, Kelli J. Bartlett
A Halloween staple, the witch is all about a spooky contour. Grab your deepest lip color in plum or dark burgundy and use it as you would a cream contour. Apply with a larger brush (e.g. Artis Oval 6) in the hollows of the cheeks, blending to create a strong shadow that makes an everyday contour look fierce and bold.
Make sure to hit places where you would normally put bronzer and contour color: down the nose, across forehead and hollow of the cheekbones. Don't be afraid to layer color to achieve extra intensity.
Opt for a dark smoky eye that extends all the way from where the inner corner of the eye meets the nose to the outer edge of the brow and up to the brow bone.
Line eyes with a dark black liner, then heavily coat lashes with black mascara.
Fill in brows for a strong, defined shape.
Use a dark burgundy or plum on lips, then finish the look by using a dot of dark brown eyeliner to create a beauty mark.
GLAMSQUAD is offering Halloween services this year to help clients complete their costumes. Looks include: Flapper, Snap Chat, Vampy Witch, Sugar Skull, Kitty Kat, Mask and more. For more information, click HERE.