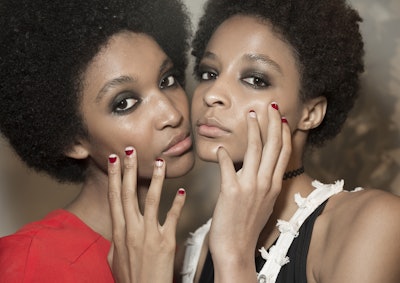 by Rachel Kossman
Rebecca Minkoff held her Spring/Summer 2017 runway show on the cobblestone streets of Soho, which provided for a unique and energetic afternoon; and a bit of a trial for her beauty team. "Yes, humidity and sweat are quite the challenge when your models are walking an outdoor runway!" laughs Lead Hair Jeanie Syfu. "But we sprayed volumizing dry shampoo right before the models walked outside, so their hair didn't deflate as they walked down the runway," she explained. Models wore their hair down: straight at the ends, with an "S" wave in the middle. The look was solidified with a spritz of extra hold hair spray.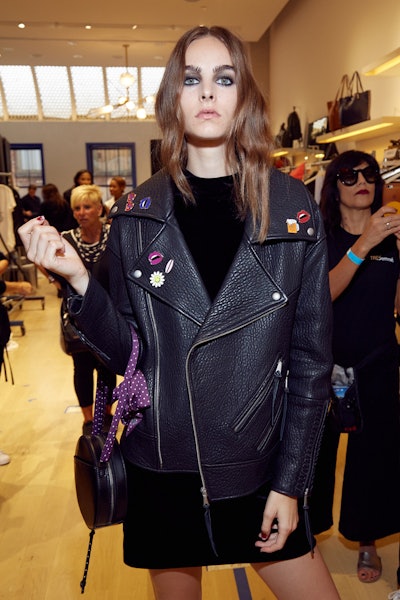 "To create that perfect wave, we blow-dried their hair then curled the middle with a 1¼-inch curling iron, wrapping strands of hair around the barrel and twisting the sections to get a nice ridge," details Syfu. "But we only wrapped it twice because we didn't want a spiral, just a gentle wave."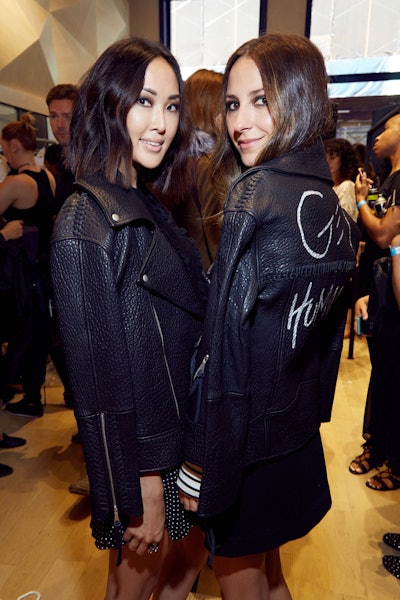 To create a complementary makeup look, Maybelline Makeup Artists Gato and Amanda Steele create glowing, dewy faces and smudged, smoky eyes. "Rebecca's inspiration was a jetsetter—a fearless, optimistic and imperfect woman who travels the world," explains Steele. To achieve the look, the Maybelline team ensures models' skin is glowing and fresh. "When you have this kind of bright complexion you can go for a sophisticated eye, a simple eye or a smudgy eye, and the result is always very fresh, very young and very modern," says Gato, who blends Maybelline's Eye Studio Master Drama Cream Pencil Eyeliner and a khaki-hued eye shadow on his hand before smudging the dark blend onto models' lids. "By combining it on the hand you create an asymmetrical, messy look," he says. To leave all the attention on the eyes, the models wear only Maybelline's Baby Lips—a practically invisible, slightly glossy lip protectant.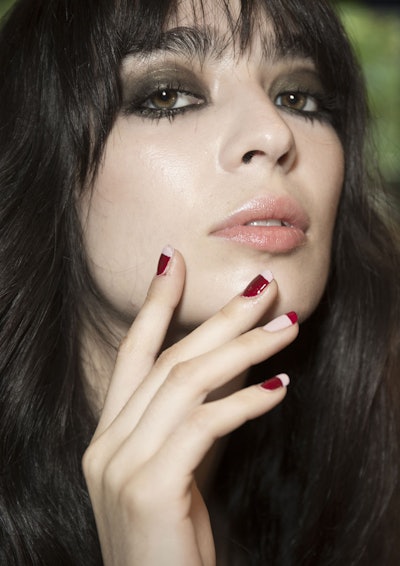 Minkoff, who serves as Essie's Global Color Designer, incorporates Essie's deep crimson Maki Me Happy hue from the Fall Collection directly into her Spring/Summer 2017 line, making the nail art for her runway show a cinch. "Rebecca is a very forward thinker, she thinks about the big picture right away, and the graphic nail art we created for this show—a twist on the traditional French manicure—flows effortlessly with her collection," explains Essie Lead Manicurist Michelle Saunders. "It's a color-block look, so about a third of the way down the nail you're adding a French manicure-esque tip, but it's thick and not curved, and the line is very straight," she explains.
Minkoff's overall inspiration of a travel-savvy woman, who has momentum and fluidity, also ties perfectly into this nail design. "My favorite thing about this particular nail art is that it's a cinch to replicate when you're traveling," says Saunders. "If your polish chips and you don't have the original color, find a contrasting shade and paint the tip with a thick horizontal stripe! Suddenly, you have an updated manicure and easy, color-blocked nail art!"