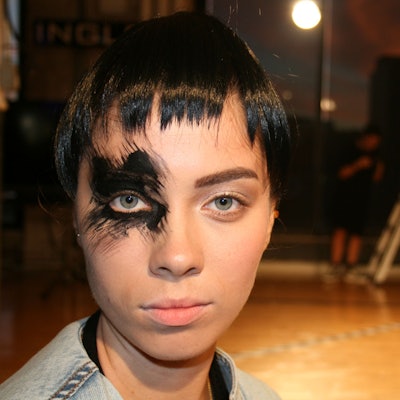 Sure, we wear clothing when we walk—hence, it makes sense to see a model strut a runway donning a designer's wares. But sometimes we dance in clothing, too, and this idea isn't lost on designer Cristina Ruales, who decided to showcase her Spring 2017 collection with a dance performance. Ruales taps a troupe of dancers to stand in for traditional models, and the beauty teams tasked with making them over take their cue from the collection details and structural designs for the look.
"In the collection there is a lot of high contrast, a lot of creams with black brush stokes on it. It really represents art," says INGLOT lead makeup and nail artist Bennett Jason. "I wanted to reflect that in the makeup and so did Cristina, so it's less about beauty and more about art and bringing to life her brushstroke prints."
Using various brushes and INGLOT Matte 77 Gel Liner, Bennett slashes a bold, asymmetrical eye design—a look made for performances, not daily life. "I want a real textural moment," Jason continues, "and I want to show elements of art." The skin is left matte with just a hint of color (AMC Face Blush #92) on the cheek and lip. "For the lip I did a technique called lip reversal," explains Bennett. "You blank-out the perimeter of the lip and add the color to the inside, almost like a stain."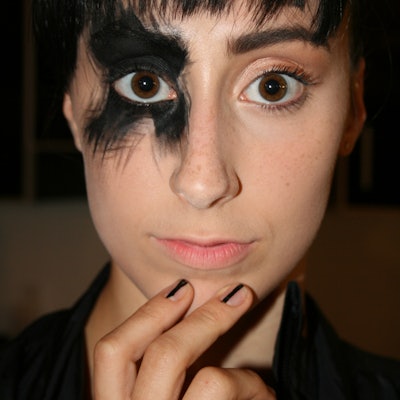 For the nails, Bennett paints a simple black line down the center of the nail using INGLOT Art Enamel #36, stating that the stripe is a nod to German visual artist Gerhard Richter, who's contemporary paintings often feature not only abstract slashes of color, but also row-upon-row of perfect lines.
The hair is no less artful. "The clothing is very graphic and high contrast, and I wanted to bring that into the hair and give it a uniform look," explains Arrojo Hair Lead Amanda Jenkins. Her creation: a sleek ponytail with a contrasting black fringe. To create the two-part updo, Jenkins starts by working Arrojo Gel and Pomade into the hair and dividing it into two ponytails, one at the top of the head and another above the nape of the neck. She then twists the bottom ponytail and wraps it into a flat bun shape, securing it to back of the head. The top ponytail is folded over and tucked under to cover the bun. She finishes the look by clipping on faux bangs and chopping into them with a scissor to create artful angles. "Usually fashion and hair is soft and pretty," says Jenkins. "But for me, fashion and hair is strong and edgy."