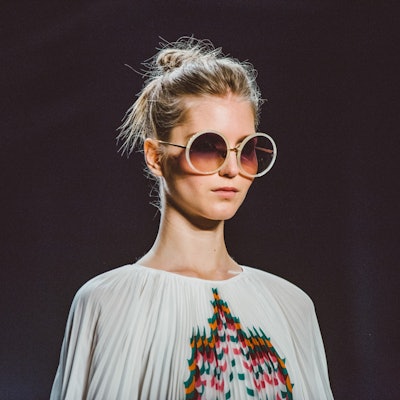 Inspired by the 1943 Guggenheim exhibit titled "Exhibition by 31 Women," Jenny Packham created 31 unique dresses for her Spring 2017 collection, each inspired by 31 women Packham views as iconic, from rock stars to A-list actresses. "There are so many muses, so many personalities. Each dress has such a different look, so there are so many variables," explains Oribe Hair Care Lead Stylist Kien Hoang. "We wanted to keep the hair very cool and simple—nothing contrived."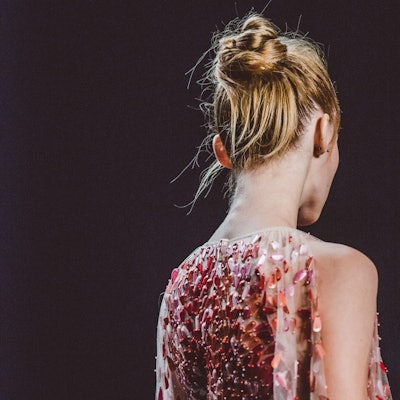 To create the hairstyle, a two-part topknot, Hoang starts by diving the hair in two sections, with the front section going from ear to ear over the crown. He preps the back section with Oribe Royal Blowout Heat Styling Spray on the lengths and Maximista Thickening Spray at the roots before pulling it into a very high, slick ponytail at the top of the crown. Hoang releases the front section and sprays it with Dry Texturizing Spray to bring out some of the natural movement of the hair before gathering it into a second ponytail and securing the two tails to form one. He finishes by twisting the interlocked tails into a topknot, leaving the ends loose.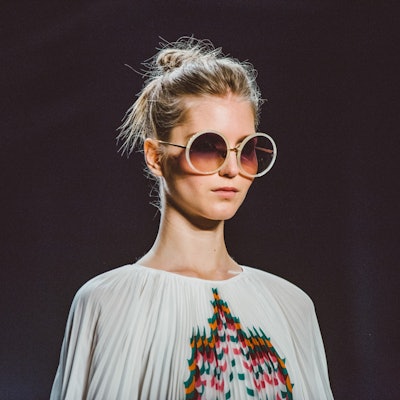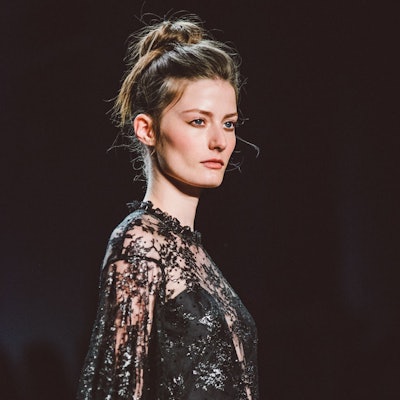 For the makeup, Lead Makeup Artist Bobbi Brown brings the drama to the beauty look with a smoky, shiny brown eye. "The makeup look is very pretty, yet rock 'n' roll," says Brown. "It's clean and pretty with a smudged eye to give it that downtown, edgy rock look." The key to the look: Bobbi Brown Cosmetics Retouching Pencils and Retouching Wands and Beach Nude Eye Gloss. "We want the girls to look like they're not wearing any makeup on their skin," Brown continues. "The retouching products even out the skin and make it look like it was retouched after you use it. They replace [the need for] foundation."
Using her finger and brushes, Brown applies Mahogany and Taupe Eye Shadow to the lids and underneath the bottom lash line to create a diffused brown eye. She washes Beach Nude Eye Gloss (launching Spring 2017) over the eye shadow, adding a super shiny finish to the design for a wet look. Before you worry that this eye gloss will smear like a lip gloss (a go-to eye-glossing product that tends to collect in creases and travel around the eyes), it's not: Brown swears her eye gloss dries with a non-sticky finish that stays put. To top off the look, she blends Pink Retouching Powder and Stonestreet Bronzing Powder onto the cheeks for a flushed appearance, stains the lips with Rich Nude Art Stick and coats lashes with Eye Opening Mascara.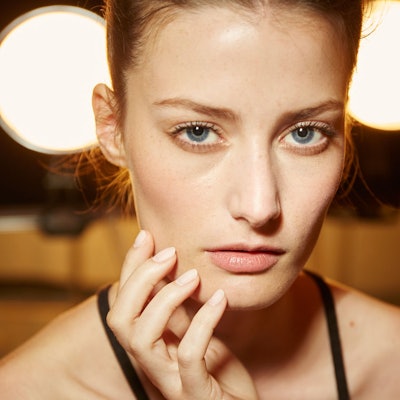 For the nails, Essie Lead Manicurist Michelle Saunders keeps it simple, choosing a nail color that universally flatters all dresses. "Each dress is so unique and individual, we wanted to bring cohesiveness into the manicure," says Saunders. The color of choice is a semi-opaque white, Essie Tuck It In My Tux, layered with Matte About You Top Coat. "The result of doing a matte on top of a white nail polish almost feels like a fabric effect, like a crisp white shirt," expresses Saunders. "It's very clean and very feminine." For the toes, Saunders wanted to "jazz it up" and add an element of surprise, opting for a vibrant deep orange, Essie Meet Me At Sunset.