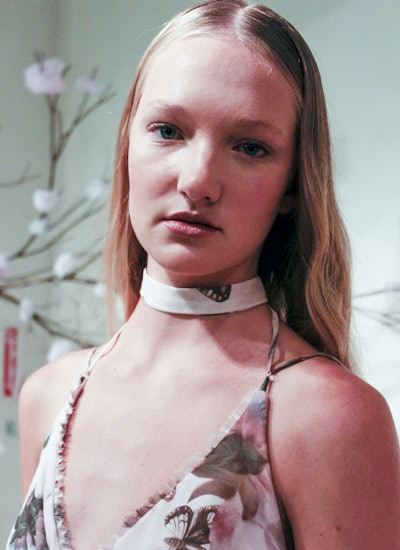 To pair with the feminine florals of Just Drew's Spring/Summer 2017 collection presented at New York Fashion Week, models were given a barely-there makeup look that relied on gorgeous, dewy skin and an unexpected pop of glitter on the lips. The end result was a youthful look that had just the right amount of glam.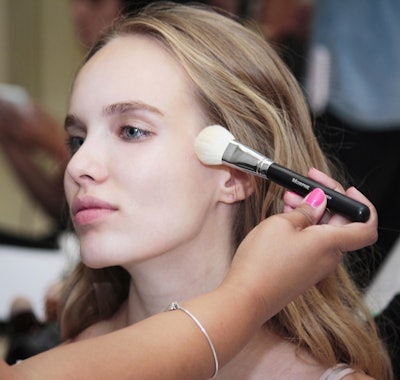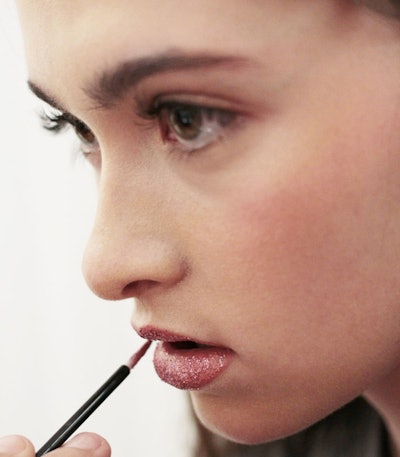 Get the Look:
To create the shimmery, glowing skin that served as the main element of the makeup look, models were given light full coverage with foundation from the Morphe 9FW Foundation Palette. Lighter colors of foundation were applied on the top of the cheekbones, in the center on the forehead and nose, and underneath the eyes as the first step in creating a highlighted face.
The designer wanted to keep the brows bare and almost shapeless to draw more attention to the skin and lips, so brows were only filled in lightly with the Brow8 Palette. Colors from the 12S palette were applied to the tear duct area, cupid's bow, and on the top of the cheekbones to add to the highlight that was started with foundation and to create a strobing effect. The color chosen from the palette was dependent on the depth of the models' skin.
A light application of blush from the 9N palette was dusted across the models' cheeks as the final skin detail.
The lips were filled in with Morphe Creme lip polish in Faithful, using the M170-2 brush. The M170-4 brush was then dipped in glitter and used in a patting motion to apply glitter opaquely over the lips. Stray glitter was cleaned up with tape, and the lip line was sharpened by using the M170-2 brush lightly dipped in foundation around the lips.