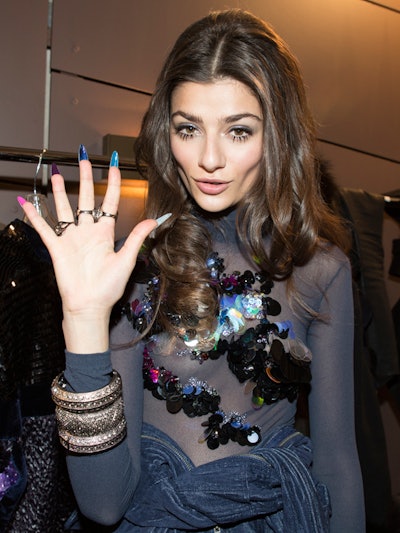 The hairstyle that '60s beauty icon Brigitte Bardot made popular—inflated height and bedhead texture—serves as inspiration for the 5:31 Jérôme show. To bring Bardot's famous coif into 2016, ends are noticeably looser, taking on a wave-like shape along the bottom of the hair. The L'ANZA Healing Style Powder Up Texturizer is "essential" to creating the look, explains Lead Hair Designer and L'ANZA Global Creative Director Ammon Carver. To maximize volume, he applies the powder in upward strokes for even, yet light, expansion. Next, Carver backcombs sections of hair starting at the top and locks in the teasing with L'ANZA Keratin Heating Oil Lustrous Finishing Spray. Then, he curled lengths with a medium-size curling iron, set the curls, brushed them out and finger-combed L'ANZA Keratin Heating Oil Hair Plumper through them for detailed shine definition.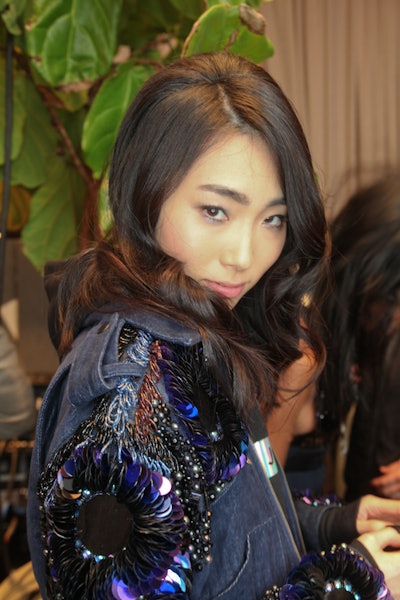 The nod to the '60s came through the makeup with an emphasis on lush top and bottom lashes and a smoky eye. "She's a luxurious urban doll," says MAC Makeup Lead Victor Cembellin. To beef up lashes, he adds MAC Lashes on the top of the eye and individual lashes. The smoky eye becomes modernized by mixing numerous MAC pigments together for depth and dimension. Also mixed: Three different pinks from the MAC Fall Trend Lipstick Palette (available Fall 2016) blend together for the lip color seen at the show; Cembellin sweeps this same lip shade across the cheeks as well.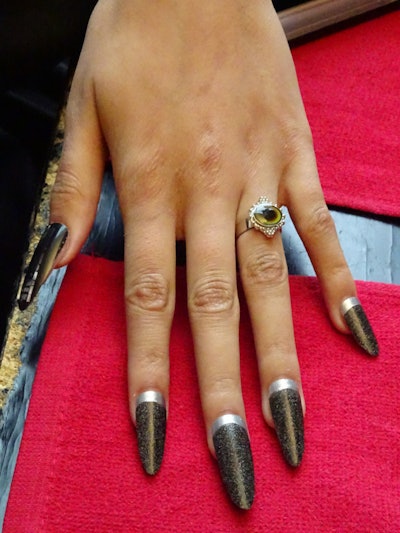 The standout nail design—long and dagger-like—isn't so much '60s-inspired (or '70s-inspired, as the clothing is) as it is a mimicry of outer space. "It's a black galactic nail with a silver crescent cuticle, " says Dermelect Lead Manicurist Rose Velez-Miggins. Custom Minx Nails wraps boasting the hashtag #Dreamstate adorn thumbs; mysticism plays a major role in the 5:31 Jérôme fall aesthetic. Of course, what would deep space be without a bit of the unknown? On the underside of each nail an array of five different colors act as a surprise, and Velez-Higgins says the spectrum of hues—Dermelect ME Pretentious, Swagger, Heirloom, Fearless and Luminous—reflect the swirling colors found in the galaxy. To achieve the precise crescent shape at the cuticle, she uses a cuticle sticker, and then coats the remainder of the nails in Dermelect Hold ME, a sparkling noir, to emulate the blackest reaches of the galaxy.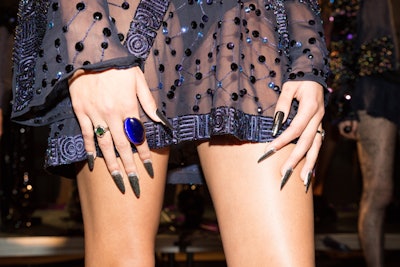 [Images: Carissa Lancaster for Dermelect]