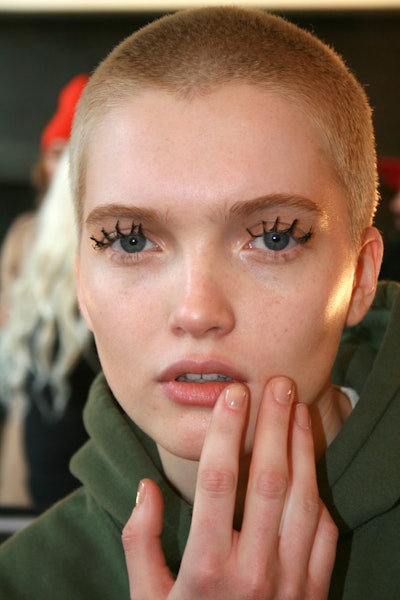 Backstage at Jason Wu's Fall/Winter 2016 runway show clumpy lashes, loose texture and undone ends offset the elegance of the collection, bringing youthfulness and edge to the beauty look. Paul Hanlon, Lead Hairstylist for Moroccanoil, took inspiration from 1940's glamour by mixing a messy marcel wave with an imperfect side part and two-day-old texture. "When I work with a designer for the first time (as is the case here), I always look at what they have done in the past—I look at the DNA of the woman he celebrates in his shows," expresses Hanlon. "Jason's clothes are beautiful, but they're quite sophisticated and elegant, and this time he wanted the girls to be raw and not so ladylike in a way."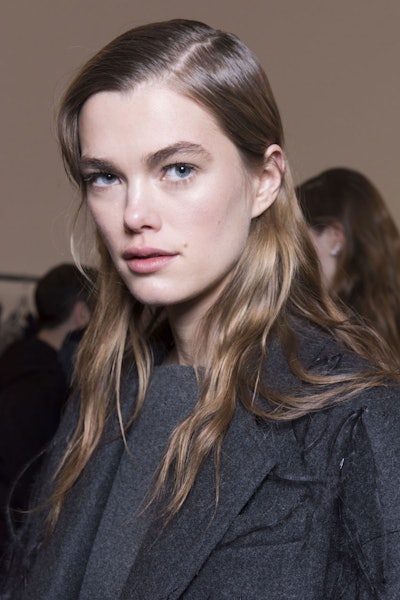 To arrive at this rawness, Hanlon first preps the hair with Moroccanoil Volumizing Mousse, combing it through with his fingers. He then uses the Moroccanoil Ceramic Hairstyling iron to add texture by creating waves. After using his fingers to create a messy side part, Hanlon irons a finger wave effect into the part, then again uses his fingers to break up the waves a bit. "The main thing is adding texture in the hair and not doing anything too natural," he says, adding, "but there has to be a feeling of elegance somewhere, slightly womanly, so we are doing this sort of nod to 1940's Hollywood glamour." To finish the style and give the raw texture a more luxe feel, Hanlon runs Moroccanoil Treatment Light through the ends and finishes the look with Moroccanoil Glimmer Shine.

 
The makeup follows the cool and rebellious vibe with a focus on wild lashes, yet keeps that feminine edge that has become synonymous with Jason Wu. "Its beauty with distortion," explains Maybelline Makeup Lead Yadim. The skin is fresh and left almost bare except for a soft flushed cheek achieved through soft dabs of Maybelline Baby Skin Instant Cheek Flush in Pinking at You. Yadim then blends a washed-out taupe-y tone on the lid up to the brow using Maybelline Brow Drama Pomade Crayon in Blonde. "It gives the eyes soft depth, not an eye shadow look," says Yadim. Lastly, the tips of lashes are coated heavily with Maybelline The Colossal Spider Effect Mascara (launching June 2016), making them look ultra-clumpy and spidery.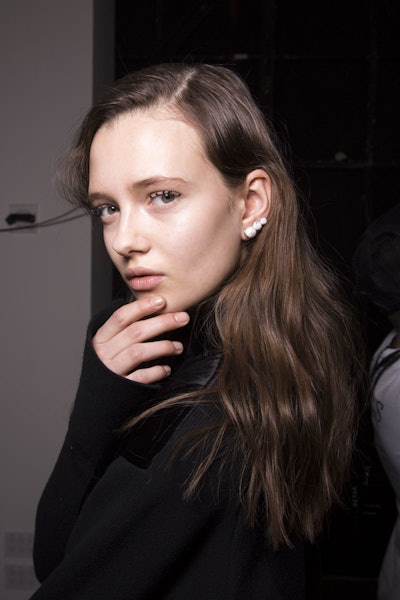 For the nails, they aren't raw or rebellious, but they are a departure from what Wu typically gravitates toward: buffed or clear-coated nails. Lead Manicurist Deborah Lippmann opts for a fully opaque beige nail color, Fashion, from her eponymous lacquer line. It's a shade she feels is timeless yet not so typical. "The girl this season for Jason is a little younger and a little grungier, but yet still chic," says Lippmann. "This color is still a huge departure for Jason since he is really into a 'nothing' kind of nail."