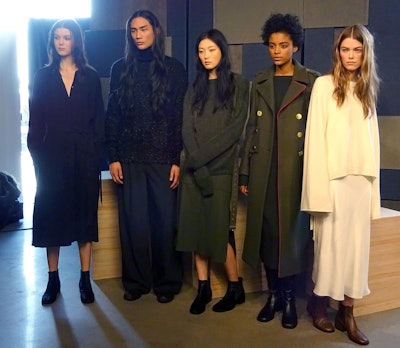 It can be just as difficult to make hair look imperfect as it is to make it appear perfect. However, sometimes a style's je ne sais quoi comes from purposeful imperfection — which can be a struggle to achieve. "It's really hard for hairdressers to not do perfect hair," remarks Hair Lead Kevin Ryan backstage at Tibi. "You've been trained to do hair well, so you have to kind of unlearn it and throw away the book when you do these types of shows. It's not always about showing what you can do, but about what you choose not to do."
The look at Tibi culls from the military yet keeps with the brand's feminine DNA, and the accompany hair takes on a "casual, cool girl" feel. Ryan creates this effortless vibe by adding wave-like bends in the hair using the R Session Tools Tidal Waver. He fills in the base with Aveda Thickening Tonic before going through the hair with just a touch of Aveda Brilliant Universal Styling Crème. For models whose hair is on the finer side, Ryan pumps up strands with Aveda Pure Abundance Powder for a "lived-in feel." The end effect is the essence of hair that's lasted the weekend, but "we're doing it in ten minutes in the chair," says Ryan.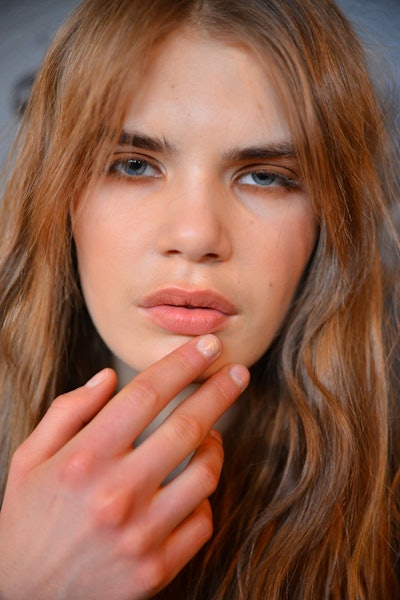 This effortless trend continues into the makeup with the brand that propelled the whole "natural" makeup look into the beauty vernacular: Bobbi Brown Makeup. The look is "windswept, taupe-y but not too done," cautions Makeup Lead Cassandra Garcia. "It's perfectly undone," she says. To achieve this, models receive a soft, taupe-y eye—the variation of taupe depended on the model's skin color—making the beauty customized. Skin is given a matte, velvety finish using Bobbi Brown Skin Foundation Stick and Retouching Powder through the T-zone. Garcia flushes cheeks into a "soft, wind-burned bronze without being shimmery. Everything is matte," she says.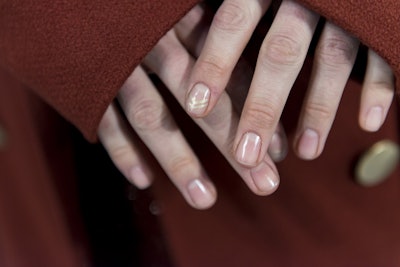 Nails are also not overly contrived, but manage to subtly reflect the cool Tibi girl — who is "a girl who knows where she's going," says Lead Nail Artist Jin Soon Choi. "This collection is inspired by military elements with a nod to feminism as well as independence and individuality." To merge these seemingly divergent themes, Choi adds a military insignia to each pointer finger — a detail so subtle you might miss it. To create the insignia, she dips a striping brush in JINsoon Cachet and draws two inverted chevrons, with apex starting one-third of the way above the cuticle. To maintain that feminine quality, nails are painted a sheer pink — almost nude — using JINsoon Muse. "We used natural, earthy tones that could go with everything, so there's not too much contrast," Choi comments. "Last season it was more about a beige nude; this season it's more about a lively, sheer pink. Nude is still in, but this time it's more of a sheer, pink nude," she explains.