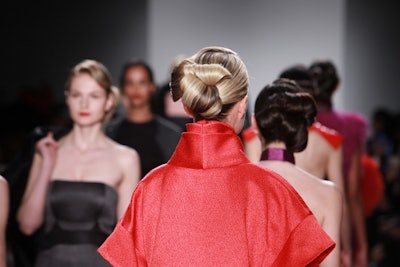 Zang Toi doesn't just take vacations; his travels repeatedly inspire his collections. Last season was a trip to Santorini; this season we're on a journey to the French Alps. This international inspiration directly gives rise to an elegant updo that Macadamia Professional Hair Lead Eiji Yamane dubs the "Courchevel Chignon," named for the ski-town Toi stayed in, Courchevel. "We're making a French chignon," Yamane explains of the grandiose looping style. Such a style takes numerous steps—a winding trip that seems fitting for a world traveler. First, Yamane distributes Macadamia Professional Blow Dry Lotion evenly throughout hair before blowing it out. He parts hair over the model's right eye, curling the front left section with a large curling iron to create loose waves. He then sprays Macadamia Professional Style Lock Strong Hold Hairspray, pinning hair back.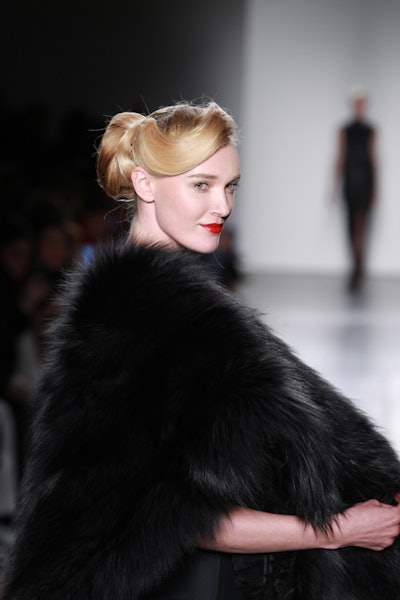 Yamane notes he is being especially careful not to cause a mark with the pins; the hair texture should be seamless looking. He then runs his curling iron through the right side, which creates a slight bend and clips it back. He pulls the remaining hair into a low ponytail at the nape, and curls it to create movement as well as softness. Here is where the chignon begins: Yamane separates the ponytail into three sections, taking the left section and curling up to create a large loop, while hiding ends inside the newly defined bun. He secures with bobby pins and finishes with hairspray. Yamane repeats this step in both the middle and right sections of the ponytail, to create the coveted triple chignon. Clips are removed; ends are tucked; pins are placed; and another round of Macadamia Professional Style Lock Strong Hold Hairspray further secures everything in place. A liberal misting of Macadamia Professional Weightless Moisture Dry Oil Micro Mist finishes the look.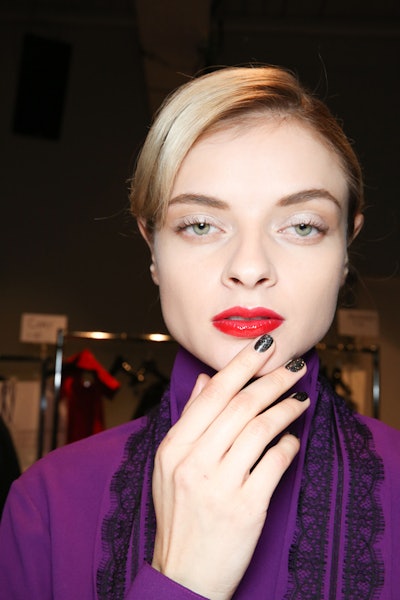 The romance of Apres-ski is as present in the makeup as it is in the hair. Makeup Lead Rudy Miles translates Zang's travel inspiration with a lacquered crimson lip. "The red lip is the center point," explains Miles, who's using UBATI Courchevel Red Lipstick and UBATI Courchevel Gloss, named for the collection. "There's a contrast so it pops right off the runway." He keeps skin matte to juxtapose the lip's shine; this texture and color difference adds to the attention-grabbing quality of the lip.
The Alps inspiration becomes most literal in the nails. "Zang was mesmerized by the beautiful black sky, stars, snow of Courchevel," says Zoya Nail Lead Cinnamon Bowser. Zoya PixieDust in Imogen, an inky black shot through with flickering silver specks, mimics the looks of the snowy French Alps during a starry night, and perfectly complement the collection. Bowser recommends applying two coats of the PixieDust, but skipping top coat in order "to keep the chunky texture."
Images: Courtesy of Macadamia Professional; Zoya