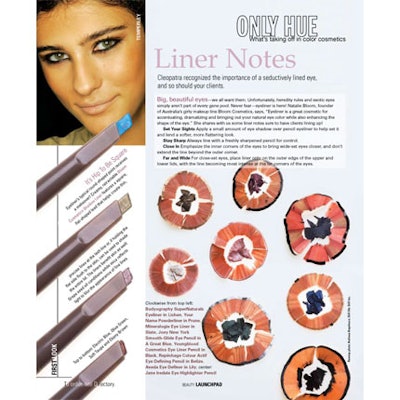 Cleopatra recognized the importance of a seductively lined eye, and so should your clients.
Big, beautiful eyes—we all want them. Unfortunately, heredity rules and exotic eyes simply aren't part of every gene pool.
Never fear—eyeliner is here!
Natalie Bloom, founder of Australia's girly makeup line Bloom Cosmetics, says, "Eyeliner is a great cosmetic for accentuating, dramatizing and bringing out your natural eye color while also enhancing the shape of the eye."
She shares with us some liner notes sure to have clients lining up!
Set Your Sights  Apply a small amount of eye shadow over pencil eyeliner to help set it and lend a softer, more flattering look.
Stay Sharp  Always line with a freshly sharpened pencil for control.
Close In  Emphasize the inner corners of the eyes to bring wide-set eyes closer, and don't extend the line beyond the outer corner.
Far and Wide  For close-set eyes, place liner only on the outer edge of the upper and lower lids, with the line becoming most intense at the far corners of the eyes.
Featuring:
Bodyography SuperNaturals Eyeliner in Lichen
Your Name Powderliner in Prune
Mineralogie Eye Liner in Slate
Joey New York Smooth-Glide Eye Pencil in A Great Blue
Youngblood Cosmetics  Eye Liner Pencil in Black
Repêchage Colour Actif Eye Defining Pencil in Belize
Aveda Eye Definer in Lily
Jane Iredale Eye Highlighter Pencil
It's Hip To Be Square
Eyeliner's typical round-shaped point receives a makeover!
Creamy, retractable Bloom Cosmetics Shadow Liner features a square, flat-shaped lead that helps create thin, precise lines at thelash line or, if holding the flat side flush to the skin, can be used to shade the entire lid. The liners benefit skin as well: Grape seed oil conditions while mica reflects light to blur the appearance of fine lines.