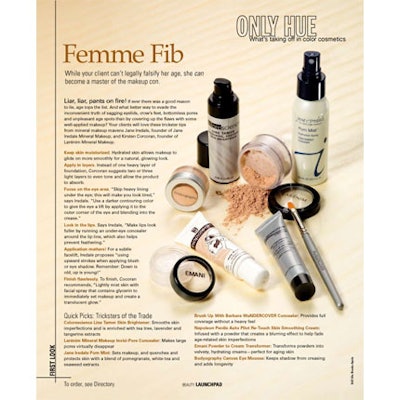 While your client can't legally falsify her age, she can become a master of the makeup con.
Liar, liar, pants on fire! If ever there was a good reason to lie, age tops the list. And what better way to evade the inconvenient truth of sagging eyelids, crow's feet, bottomless pores and unpleasant age spots than by covering up the flaws with some well-applied makeup? Your clients will love these trickster tips from mineral makeup mavens Jane Iredale, founder of Jane Iredale Mineral Makeup, and Kirsten Corcoran, founder of Larénim Mineral Makeup.
Keep skin moisturized. Hydrated skin allows makeup to glide on more smoothly for a natural, glowing look.
Apply in layers. Instead of one heavy layer of foundation, Corcoran suggests two or three light layers to even tone and allow the product to absorb.
Focus on the eye area. "Skip heavy lining under the eye; this will make you look tired," says Iredale. "Use a darker contouring color to give the eye a lift by applying it to the outer corner of the eye and blending into the crease."
Lock in the lips. Says Iredale, "Make lips look fuller by running an under-eye concealer around the lip line, which also helps prevent feathering."
Application matters! For a subtle facelift, Iredale proposes "using upward strokes when applying blush or eye shadow. Remember: Down is old; up is young!"
Finish flawlessly. To finish, Cocoran recommends, "Lightly mist skin with facial spray that contains glycerin to immediately set makeup and create a translucent glow."
Quick Picks: Tricksters of the Trade
Colorescience Line Tamer Skin Brightener: Smooths skin imperfections and is enriched with tea tree, lavender and tangerine extracts
Larénim Mineral Makeup Invisi-Pore Concealer: Makes large pores virtually disappear
Jane Iredale Pom Mist: Sets makeup, and quenches and protects skin with a blend of pomegranate, white tea and seaweed extracts
Brush Up With Barbara WuNDERCOVER Concealer: Provides full coverage without a heavy feel.
Napoleon Perdis Auto Pilot Re-Touch Skin Smoothing Cream: Infused with a powder that creates a blurring effect to help fade age-related skin imperfections
Emani Powder to Cream Transformer: Transforms powders into velvety, hydrating creams—perfect for aging skin
Bodyography Canvas Eye Mousse: Keeps shadow from creasing and adds longevity