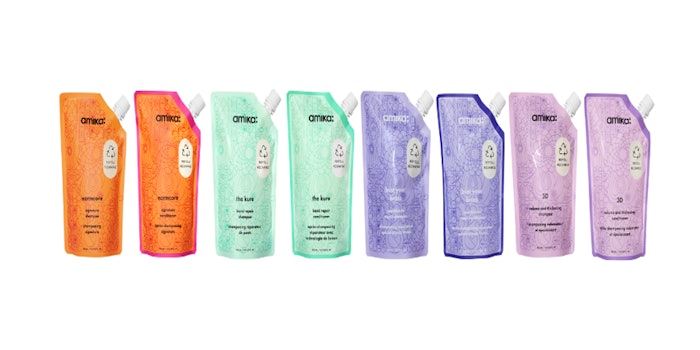 Courtesy of amika
amika has launched refillable pouches of its best-selling shampoos and conditioners, just ahead of Earth Day!
These new, sustainable pouches will allow professionals to refill existing shampoo and conditioner bottles by simply unscrewing the top and pouring into the empties.
According to the company, this will lower carbon emissions by 98.4 percent compared to traditional, virgin plastic bottles (when used for one year, compared to traditional HDPE packaging).
The 500ml. refill pouches will be available in the following wash sets:
amika bust your brass cool blonde repair shampoo + conditioner
amika the kure bond repair shampoo + conditioner
amika normcore signature shampoo and conditioner
amika 3D volume and thickening shampoo + conditioner