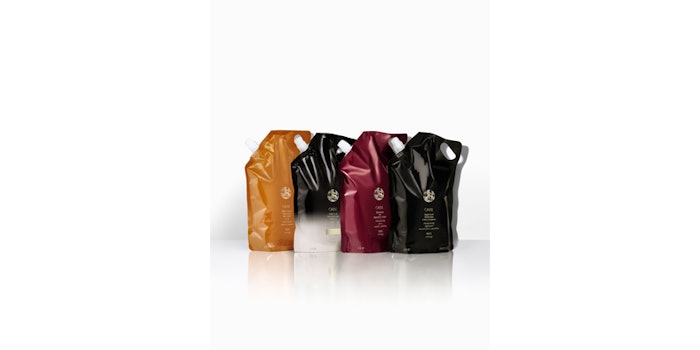 Courtesy of Oribe
Oribe has introduced new refill pouches for its liter-sized shampoos, conditioners and hand wash. (February 2022) 
The new liter refill pouches use 71 percent less single-use plastic than other large-format liter bottles.
"At Oribe, we know everything matters and are always looking for new ways to make our packaging more environmentally friendly, from using Forest Stewardship Council-approved cardboard for our outer cartons, to our new recyclable glass perfume bottles," says Jennifer Smith, VP of packaging for Oribe Hair Care. "We designed the liter refill pouches as another step in our ongoing journey to create products that uniquely blend luxurious craftmanship with the highest standards of sustainability."
Oribe's liter refill pouches are offered in:
Gold Lust Repair & Restore Shampoo and Conditioner Ultra: Duo moisturizes and revitalizes hair to impart a more youthful appearance.
Signature Shampoo and Conditioner: Rich, daily cleanser and conditioner provide moisture to silken and detangle strands.
Shampoo and Conditioner for Beautiful Color: Restorative cleanser and conditioner offer intense moisture and repair as well as protect against color fade. 
Côte d'Azur Revitalizing Hand Wash: Softening hand cleanser features the brand's signature Côte d'Azur scent.