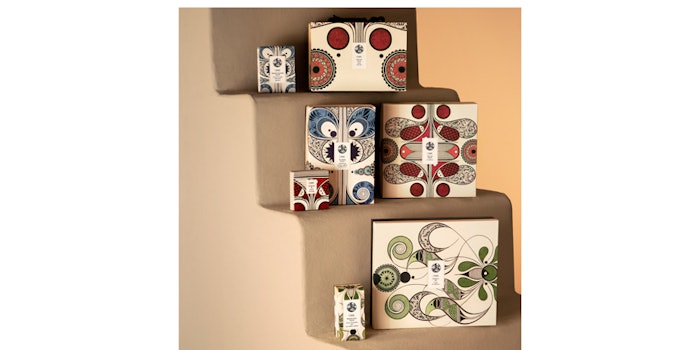 Oribe Hair Care collaborates with Native American visual artist Rowan Harrison of Two Tribes Pottery to create six limited edition holiday sets.
"Artwork is integral to understanding Native American culture," says Rowan Harrison. "Oribe encouraged the idea of education through artistry and allowed me to interpret the brand's aesthetic through motifs and techniques that honor the craftsmanship and skills of the Indigenous people of North America."
Harrison created three original works of art for the holiday set packaging using traditional Southwestern indigenous motifs that draw upon the ancient beauty of the natural world.
Each design was hand-drawn, combining elements of Rowan's Pueblo of Isleta and Navajo heritage and culture to represent earth, water and life.
The designs are as follows:
Terra-embodies preservation and symbolizes Earth. The red palette evokes the multicolor mesas and plateaus found throughout the Southwest.
Aquatica-symbolizes change and transformation, depicted by Water. The blue palette was inspired by the various forms of water that nourish the earth.
Flora-signifies growth and a celebration of Life. The green palette is bright and vivid, much like the desert in full bloom.
Holiday sets include:
Beautiful Color Travel Set includes Shampoo for Beautiful Color Travel and Conditioner for Beautiful Color Travel
Signature Essentials Travel Set includes Signature Shampoo Travel, Signature Conditioner Travel and Invisible Defense Universal Protection Spray Travel
Dry Styling Collection includes Dry Texturizing Spray, Dry Texturizing Spray Travel and Gold Lust Dry Shampoo Travel
Gold Lust Collection includes Gold Lust Repair and Restore Shampoo, Gold Lust Repair and Restore Conditioner, and Gold Lust Nourishing Hair Oil Travel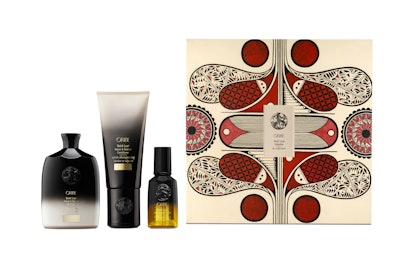 Collector's Set includes Gold Lust Repair and Restore Shampoo Travel, Gold Lust Repair and Restore Conditioner Travel, Gold Lust Dry Shampoo Travel, Dry Texturizing Spray Travel, Gold Lust Nourishing Hair Oil Travel, Superfine Hair Spray Travel, Grandiose Hair Plumping Mousse Travel, Run-Through Detangling Primer Travel, Mystify Restyling Spray Travel, Côte d'Azur Restorative Body Crème Travel, Côte d'Azur Replenishing Body Wash Travel, and Geometric Gold Plated Metal Hair Barrette
Gold Lust Liter Set includes Gold Lust Repair and Restore Shampoo Liter, Gold Lust Repair and Restore Conditioner Liter