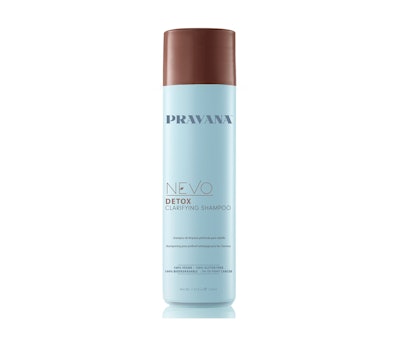 January's the time for detoxing, but thankfully Pravana has a way to cleanse that doesn't involve maple syrup, lemon juice and cayenne pepper.
Pravana's Detox Clarifying Shampoo is a great way to rid yourself and clients of 2017, making way for a fresh start in the new year. Detox cleans buildup and eliminates product residue and impurities without stripping hair of its much-needed moisture, especially in this cold weather. The vegan and sulfate, paraben and gluten-free shampoo also washes away misconceptions that clarifying shampoos are drying by helping to stop damage and dullness before it starts, thanks to an antioxidant-rich formula.
It works on natural hair and extensions to remove any product on the hair before coloring and applying. Detox is ideal for removing buildup on oily hair that weighs the hair down, making it look flat and dull. You can also use use Detox prior to a conditioning treatment, because it helps achieve ultimate hydration by removing anything that could be blocking the hair from taking in the treatment.
Key benefits include:
Special chelating agents that trap and contain mineral deposits and other surface artifacts that release when shampoo is rinsed from the hair, great for those living in areas with well water or with water high in minerals
Helps prevent and remove the "swimmers green" tint that often affects blondes
Features a 100 percent vegan formula that is sulfate, sulfite, paraben and gluten-free
Packaged in 100 percent biodegradable bottles
Gentle enough to be used daily
Detox Clarifying Shampoo is available at SalonCentric stores.
[Image courtesy of PRAVANA]