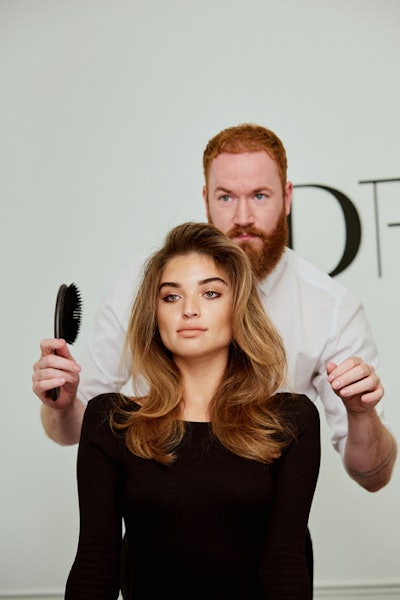 Oribe Hair Care announced a special video collaboration with luxury blow dry salon, DreamDry. A series of five videos will be released throughout the month of July. They were all filmed at the DreamDry flagship location in New York City and feature models styled in summer and festival-inspired looks using Oribe's Summer 2017 launches.
The campaign is comprised of three "selfie how-to" videos ("Three Ponies," "The Rag Set" and "Braided Up and Down") that show the models executing the styles on themselves and two "get the look" videos ("The Twisted Crown" and "Chain Link Pony") styled by Oribe Educator Adam Livermore. The videos will be shared across Oribe, DreamDry and various retailers' social platforms as part of a larger social strategy and will live on Oribe.com/films.
The "Braided Up and Down" look, which DreamDry developed in conjunction with Adam Livermore, will be added to the DreamDry lookbook and featured in the salons for the Summer 2017 season. "We're constantly thinking about what our client wants and are thrilled to partner with Oribe to create an exclusive look that's perfect for the summer," said Robin Moraetes, DreamDry Co-founder and Hudson Blvd. Group President. "Our clients desire a personalized, elevated experience, which is what we'll be delivering through this partnership, spanning across video tutorials, social content and in-store offerings."
"Building a rich and varied library of video content is an essential component of our overall marketing strategy, and one that makes our direct to consumer and professional marketing efforts more impactful," said Caitlin Gaffey, Oribe VP of Marketing. "We saw the opportunity to collaborate with DreamDry as a chance to partner closely with one of our salons to highlight on-trend hairstyles in our content and to expand the reach of our videos." 
Click here to see all the videos!
[Images courtesy of Oribe]