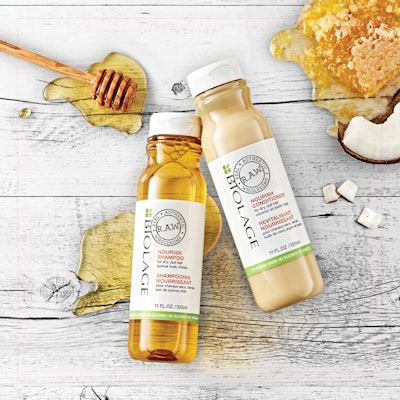 L'Oréal USA announced today that its products Biolage R.A.W (Real - Authentic - Wholesome) Nourish Shampoo and Conditioner have achieved Cradle to Cradle Certified™ SILVER based on an evaluation of the products' material health, material reutilization, renewable energy and carbon management, water stewardship and social fairness. The announcement was made in a presentation by L'Oreal USA Assistant Vice President Nour Tayara at the Sustainable Brands® conference in conjunction with the Cradle to Cradle Products Innovation Institute and MBDC. The impartial and independent certifications are the result of the drive for sustainable innovation and environmental stewardship across L'Oréal USA's research and innovation, marketing and manufacturing divisions.
"Through L'Oréal's commitment to innovation and sustainability, we have been able to create a product line that truly combines our commitments to high performance hair care and environmental stewardship," said Jonathan Maher, Vice President of Corporate Social Responsibility & Sustainability for L'Oréal USA.  "We are extremely proud of this Cradle to Cradle certification because it exemplifies how our Sharing Beauty With All sustainability program encompasses every aspect of our product's value chain, from formulation to packaging and production."
The Cradle to Cradle Certified Products Program is an independent, third-party verified certification program that certifies products and materials that are developed to respect human and environmental health, designed for future use cycles, and that utilize clean energy and water throughout the supply chain. Cradle to Cradle product certification is awarded at five levels (Basic, Bronze, Silver, Gold, and Platinum), with each higher level imposing a more rigorous set of requirements. The lowest score in any quality category establishes the product's overall score. Certified products are required to show continuous improvement every two years.
"It is exciting to have L'Oréal supporting the momentum behind the Cradle to Cradle movement," said William McDonough, globally recognized architect, leader in sustainable development and co-founder of MBDC. "Today we are seeing fragrances, personal care products, fashion and more consumer industries putting health for people and planet first by pursuing Cradle to Cradle Certified materials. We encourage other companies to follow L'Oréal's lead in this journey toward a circular economy defined by quality and beauty."
L'Oréal's comprehensive database of ingredients and their environmental properties enabled the L'Oréal Research & Innovation teams to develop Biolage R.A.W. with the highest levels of biodegradability (Nourish Shampoo at 99% biodegradable) and a high concentration of natural-origin ingredients, while also maintaining product performance and efficacy. For R.A.W. Nourish Shampoo and Conditioner, the formulators used naturally-derived ingredients for conditioning and cleansing agents in place of traditional ingredients. The products' packaging design is also an example of sustainable innovation with bottles that are made of 100% post-recycled PET plastic, showcasing the company's commitment to material reutilization. Notably, R.A.W. Nourish Shampoo and Conditioner achieved PLATINUM under the Cradle to Cradle Product Standard's Material Health Assessment, which evaluates impact on human and environmental health.
In addition to product design, the Cradle to Cradle Product Standard also evaluated the environmental performance of the product's manufacturing process. The full R.A.W. product line is produced in L'Oréal's haircare manufacturing plant in Florence, Kentucky, a facility that achieved 100% renewable electricity at the end of 2016 due to a combined purchase of locally sourced renewable energy certificates and the development of the largest on-site commercial solar array in the state, to be completed mid-2017.
"A growing number of companies are relying on the Cradle to Cradle Certified Product Standard to verify the material health and positive impact of the products they create," said Lewis Perkins, President of the Cradle to Cradle Products Innovation Institute. "Personal care is one of the most highly influential product sectors in the global economy. We are delighted to see highly recognizable brands like L'Oréal use their leadership to demonstrate the value of Cradle to Cradle Certified in innovating and making products with a positive future in mind."
L'Oréal's global Sharing Beauty With All sustainability program includes a commitment that 100 percent of its products will have an environmental or social improvement by 2020. This certification demonstrates how L'Oréal's focus on sustainability is driving its brands to innovate differently by prioritizing sustainability in the product development process.  In order to achieve this certification, the Biolage team capitalized on L'Oréal's in-depth knowledge of the environmental profile of its ingredients to develop the R.A.W. professional haircare line, which focused on sustainable development from the design phase through formulation, product use and disposal. The unique formulation of Biolage R.A.W is the cornerstone of the brand's larger ambition to transform its full value chain to become more sustainable, including partnering with salons and engaging consumers to reduce their environmental footprints.
Through Sharing Beauty with All, L'Oréal is committed to reducing the environmental impacts across its full value chain. At the end of 2016, the company had already reduced its worldwide CO2 emissions by 67 percent in absolute terms (from a 2005 baseline), propelled by an 84 percent reduction in the U.S. last year.  For more information on L'Oréal USA's sustainability program and its Sharing Beauty With All objectives, commitments and achievements, please visit www.sharingbeautywithall.com.
[Image courtesy of Matrix]